Getting the privilege to play a round at Augusta National Golf Club is the dream of a lifetime. Getting to play a round under the circumstances I played, made it even more special. In 1998, in the early days of GolfTEC, I was a Coach in our Denver Tech Center Improvement Center and one of my students was Tom Sullivan.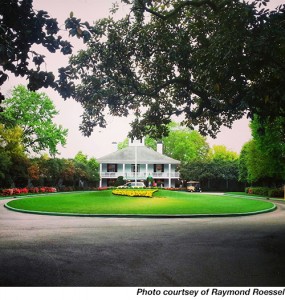 Tom has been blind since birth yet has accomplished great things in life, including playing in numerous World Blind Golf Championships. Tom has appeared in commercials for Callaway Golf in their "How Golf Should Feel" campaign. Tom's role as a motivational speaker got him invited by one of his Fortune 500 clients to play Augusta National. I was invited to join as Tom's guide, something I had done many times before in casual rounds and tournaments.
The evening before our round, we were invited to have dinner in the Augusta National clubhouse. The incredibly special experience that is August National begins the moment you turn onto Magnolia Lane, the famous drive to the clubhouse. In the dining room that night was a U.S. Senator as well as a well-known CEO of one of the 20 largest companies in the world. After dinner, we were treated to a tour of the club's wine cellar. At one point on the tour, I asked the sommelier why there was such a thick layer of dust on a certain lot of wine. His answer was simple…"That wine is not ready yet."
The big day arrives and we were up early and anxious. We were actually going to play golf at Augusta National! We changed shoes in the locker room, met our caddies, and headed to the driving range.
After hitting a variety of shots, we moved to the practice green, which is located between the first and tenth tee boxes. We played about three weeks after the Masters and the greens had slowed a little from tournament speed, but they were still VERY fast. There were a few other groups that morning and they were starting to head to the first tee, so our host suggested we consider starting on the tenth hole. Two minutes later, we were standing on the tenth tee about to start our round. Are you kidding me? Starting on ten…the famous back nine at Augusta! In 1998, television primarily covered only the back nine, unlike today's coverage of every hole. The front nine was more of a mystery, but everyone knew the back nine by heart and the commentators always hyped the back nine. There we were, with no front nine to let the nerves calm down, WE WERE STANDING ON THE TENTH TEE! I don't know who was more nervous, Tom or me.
In addition to helping Tom line up shots, read the greens and understand the landscape in front of him, I also had the honor of being his "eyes" for the day. I think being in this unique position brought even more to my Augusta experience. Trying to capture and describe the beauty around us gave me special perspective and an elevated awareness of all my surroundings. Sharing it with Tom made me appreciate even more the magnificance of Augusta National.
Somehow between my nerves and guiding Tom, I managed to par ten and eleven and make it to the par three, 12th, where I hit my tee shot in the back bunker. I got up and down from that bunker to be even par with one hole left in Amen Corner. I don't even remember walking to the 13th tee…I might have actually floated! I remember standing on the 13th tee box thinking this is the par five hole everyone hits in two. If I could do the same thing, I could be under par at Augusta National! As usually happens in golf, when you get too far ahead of yourself, nothing good happens. I promptly topped my tee shot into Rae's creek!
The rest of the morning was filled with great conversation, great golf, and special time with my good friend Tom. We walked down each fairway with his hand on my shoulder, discussing the beauty, the attention to detail and the differences between how the course looks on television versus in person. The severity of the hills is much steeper than on television, particularly the small mounds and green-side slopes, as well as the pitch of an entire hole. Augusta National is a very hilly place and it comes into play on almost every shot. The other aspect of Augusta National that does not come across as well on television is the perfection in the course conditions. Every blade of grass is perfect, every edge is razor sharp, and every pine needle is neatly in place. You feel like you are walking through a Disney fake studio set…not real, living plants.
More than awestruck by our surroundings, there was nothing memorable about our scores that day. But I will never forget the incredible 24 hours I spent at Augusta National and helping my friend see it through my eyes. Thankfully, I have the second week of April every year to relive my experience.