Try this indoor, offseason drill to make better contact!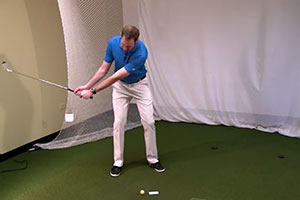 Does your golf game suffer from inconsistent contact? Perhaps you take divots well behind the ball, causing you to hit shots fat or heavy, coming up well short of your target? Then you're left with that dreaded chunky feel in your swing that just drains your confidence for the rest of the round?
At GolfTEC, we know inconsistent ball striking can be frustrating – it's one of the top 3 reasons why students come to us for lessons. We also know the offseason is a great time to fine-tune certain aspects of your game. There is no better place to start than developing consistency with your ball striking to increase distance and improve accuracy with your approach shots. Doug Strawbridge, Regional Manager and Director of Instruction at GolfTEC Upper Kirby, offers the Business Card Drill to bring us back to the true fundamentals of the game: how to strike the golf ball first to generate proper ball contact and impact position.
Work on this drill during the golf offseason and you'll be striking the ball consistently in time for your best golf season yet!
Now is the time to prepare for the 2015 golf season & GolfTEC Training Camp is here to help! For more great golf drills, be sure to subscribe to the GolfTEC Blog and visit www.GolfTEC.com/TrainingCamp to Attack Your Game this offseason!