If your offseason mantra is playing golf NO MATTER WHAT, use these keys to play well

By Jon Levy

Highest of praise and kudos to you for being that guy. Yep, that guy.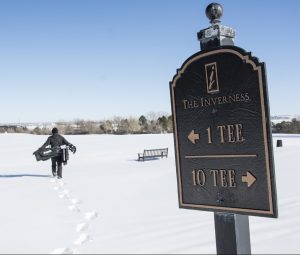 You know, the one who will tee it up through Mother Nature's wrath no matter how bad it gets outside. Because, as long as the course is open for business, so are you.
But no matter your level of grit when it comes to being a "bring-it-on" golfer, the following six steps – some obvious, some not – can help to ensure you're armed with more than just determination to make those frost-ridden birdies.
---
Step 1: It's all about layering
No secret sauce here – layering is often prescribed to combat various cold-weather conditions, and stacking moisture-wicking, free-moving fabrics cuts down on bulkiness for the needed motion to swing, while also allowing for easy on-the-fly adjustments when conditions change.
---
Step 2: Keep your hands warm

It won't matter how warm the rest of your body is unless your hands are under wraps as well. Because, after all, they are the key components to maintaining "feel" in your swing. So, grab a giant pair of golf mitts and throw a hand-warmer inside to keep those digits warm. A pair of rain gloves you wear throughout the round can be a big help, too.
---
Step 3: Take more club and swing easy
Do you normally hit your 7-iron 150 yards and driver 250? Not happenin' in cold weather – the restricted movement from your clothing and cold air means you'll lose distance, so take another club (or two!) and swing easy. Once you've convinced your ego this is the best thing for your game, you'll be surprised what it will do for your rhythm and ability to hit the ball solidly.
---
Step 4: Move your body and stay hydrated!
You likely already naturally move around to keep that blood flowing when it's cold, but it's a good thing to consciously think about moving around to stay warm and loose. This will help ensure your swing still feels like your swing, not your future self at 100 years old. Also, we often don't realize we're in need of hydration when it's cold, so keep the water intake up, too.
---
Step 5: Assess and adjust to the current course conditions ASAP
Paralleling Step 3, the golf course itself will likely play much differently than you're used to in warmer weather. Is it wet? Dry? Frozen? Course conditions can change by the minute – especially in adverse weather – so it's helpful to consciously assess distances and how the ball reacts on the ground ASAP, and adjust your management decisions accordingly.
For example, shots plugging on extra soft greens could mean your medium-to-high-trajectory pitches won't run out as far and a lower-lofted club with less spin is the better call. Or playing hard/dry greens could mean your stock 9-iron that usually lands and stops by the hole is now bouncing over the green, so a pitching wedge to the front of the green that allows for this bounce and rollout is the better call.
---
Step 6: Practice inside whenever you can!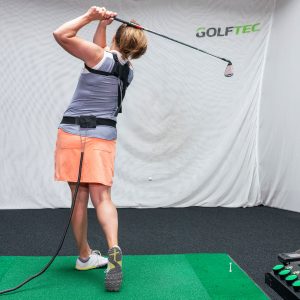 It's admirable you're playing through the offseason – your game will thank you this spring! But, it's also wise to maintain technical work indoors at home or in a GOLFTEC Improvement Center, so that layered-up, easy-swinging mojo you've got going isn't the only thing you remember come springtime. Tour pros often make big changes during the offseason, so if you've been hesitant to really dig into your swing in the past, try following their lead because there's no better time than now to get to work indoors.
---
Editor's Note: This article is an updated version of the original article from Dec. 18, 2015.
---
Related:

Keep your game hot in cold weather
---
Ready for GOLFTEC lessons? Find a GOLFTEC near you and talk to a Coach who can help today!
---
Like our content? Subscribe to the GOLFTEC Scramble for the latest on instruction, news, equipment and more!