Need a chipping tip to improve your contact? Practice this quick drill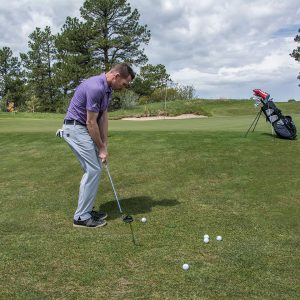 There's nothing like getting up and down to save par. There's also nothing worse than blading or chunking a chip and failing to get your ball anywhere near the hole.
Having a solid short game is crucial for any golfer, no matter the skill level. But some of us weekend warriors will never be able to spend hours around the practice green to dial in every single wedge like the pros.
However, we know your time is just as important as your short game, so we're here to improve your chipping in 90 seconds.
A minute & a half to better chipping?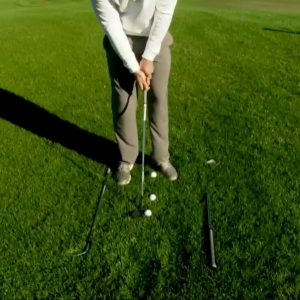 Okay, we might be a little ambitious. Your short game isn't going to magically transform in 90 seconds, but you can practice this drill in that short amount of time.
Pick a section of the practice area just off the green, set two clubs down about two feet apart and place a few balls in the middle of the shafts. Your goal is to hit the balls onto the green without hitting either of the clubs that are in front or behind the balls.
There are different ways to approach this. You could keep your club very close to your body as you swing down, but you'll likely just clip the top of the ball. You could also chop down at the ball and limit your follow-through, but that'll result in a low screamer across the green. Neither of these shots are very useful.
Bounce is best
The best way to successfully complete this exercise is to let the bounce of your wedges do all the work. Bounce dictates how the sole of your club interacts with the ground and ultimately makes chipping less of a guessing game.
To use bounce properly, you need to think about the bottom of the club literally bouncing off the ground. In this drill, the shafts on the ground are meant to encourage a more predictable angle of attack — not too steep and not too shallow — which controls how you present the club's bounce at impact.
Once you get a feel for how to use bounce, continue to practice that same swing using the two clubs on the ground as guides.
Do you want to see this quick-hitting drill in action? Watch GOLFTEC's Nick Clearwater demonstrate it in the video below.
---
VIDEO:
Improve your Chipping in 90 Seconds
If you're not sure if this tip is for you, find a GOLFTEC near you today!
---
Like our content? Subscribe to the GOLFTEC Scramble for the latest on instruction, news, equipment and more!