GOLFTEC celebrated National Golf Day in Washington D.C. alongside industry leaders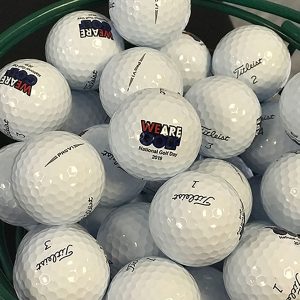 There are few days that bring the entire golf industry together. Maybe the Masters, the Ryder Cup or even when a once "has-been" golfer wins his fifth green jacket. But if there is one day that brings the entire country together in the name of golf, it's National Golf Day.
For the past two years, #NationalGolfDay has trended on social media, and you've probably seen some of your favorite golf accounts and professional golfers share what golf means to them. You've also probably noticed social posts about the golf industry's economical, environmental, charitable and health impact throughout the country.
Seeing all of the social interaction is inspiring, but this year, I got to see what happens on National Golf Day up close and personal in Washington D.C.
Community Service Project on Capitol Hill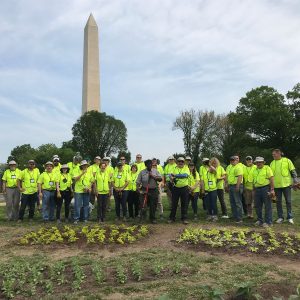 Even though National Golf Day is a single day—May 1st this year—the action starts the day before. The community service project, which is led by the Golf Course Superintendents Association of America (GCSAA), might not be the biggest highlight of National Golf Day, but I thought it was one of the best parts of the entire ordeal.
Bright and early on Tuesday, April 30th, about 200 volunteers ranging from golf course superintendents, to a golf course owner/senator of Indiana, to your GOLFTEC social media guru gathered around the steps of the Lincoln Memorial. After a group picture was taken, John Deere gloves and bright neon safely vests were handed out, we were off to our designated duties.
The unique thing about the community service project was being able to actually help the National Parks Service lay sod, mow grass, trim trees and hedges and plant flowers along on the National Mall. I had the privilege of planting flowers around the Washington Monument. I bet a lot of people don't get the chance to say they've done that in their lifetime!
A Hill Worth Laying On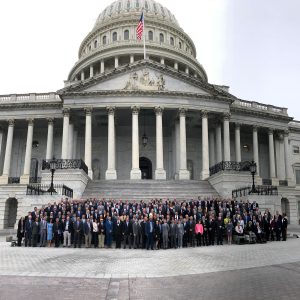 By Wednesday, everyone had cleaned the dirt off their hands and suited up to take golf to Capitol Hill. During the early hours of the day, industry members gathered to speak with their congressional members about golf's impact.
Remember all those stats peppering social media? Well, the people who attend National Golf Day in Washington D.C. actually get a chance to talk to government representatives about all the great things golf does for this country.
Suits, ties, heels and golf swings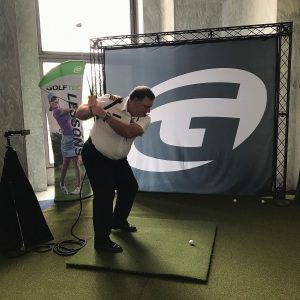 I was able to spend the entire day in the Rayburn Building on Capitol Hill where I watched congressmen, staffers, custodians, kids, and many more people take swings, wearing everything from full suits and ties to dresses and heels.
Some people had never held a club before, but watching their face light up when they made contact reminded me why National Golf Day is so important: this game is fun!
If there was one thing I took away from being right in the middle of the craziness that is National Golf Day, it was a reminder that this sport reaches so many people.
Later in the day, a man in a wheelchair who was paralyzed from the waist down came up to the GOLFTEC booth and said he wanted to take a swing. His chair lifted him up in a standing position, he grabbed a club and, whack! He hammered a ball. Not only is golf fun, but golf is for everyone.
Golf is for everyone! #NationalGolfDay @AccessGolf pic.twitter.com/u0jIvYo71H

— GOLFTEC (@GOLFTEC) May 1, 2019
The economic impacts we see during National Golf Day are crucial, because an $84 billion industry that impacts nearly two million jobs in this country is important and so are golf's charitable, environmental, fitness and societal benefits. But we also have to think about the underlying factor to all of that. Golf is a cherished pastime that influences many different people, who all share a love of the game.
---
If you like our content, subscribe to the GOLFTEC Scramble for the latest on instruction, news, equipment and more!