Callaway releases a new line of irons and the hybrids to complete the Epic Flash family 
Most avid golfers anticipate equipment manufacturers to release the showstopping, knock-your-socks-off, never-seen-technology-like-this-before equipment at the first of the calendar year. While yes, that might be true, but that doesn't mean anything released throughout the remainder of the year is less exciting.
Take the Callaway Epic Forged irons and Epic Flash hybrids for example.
Ultra-premium Forged Performance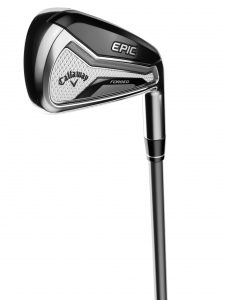 We saw Callaway drop the highly anticipated new Apex irons at the beginning of the year. Even though the Apex irons are such beauties, they're geared toward better players who like to work the ball but appreciate a little forgiveness.
What about the rest of us? That's where the new Callaway Epic Forged irons come in. These irons are aimed for six to 20 handicappers with distance and consistency in mind.
Callaway implemented a VFT pattern to encourage consistent spin rates and ball speeds in the new irons. And for the first time, the manufacturer added Suspended Tungsten Core into an iron. This technology helps perfectly place the center of gravity to help golfers have a more controlled launch.
Sounds like exactly what any golfer, despite the handicap, could use in their bag.
Premium Technologies For Epic Performance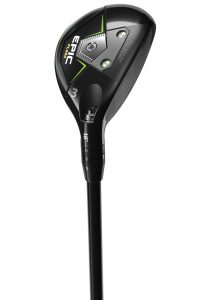 Another big launch we saw from Callaway earlier in the year was the Epic Flash driver and fairway woods. Now to round out the line, they've released the Epic Flash hybrid. Featuring Jailbreak Technology, an ultra-thin forged Carpenter 455 steel clubface and Face Cup technology, the Epic Flash hybrid is Callaway's most advanced hybrid to date.
The Epic Flash hybrid is the first hybrid to feature triaxial carbon fabric, T2C, which was first introduced in the Epic Flash drivers. This fabric allowed Callaway to removed weight from the crown and move it deeper in the head. Doing so produces a much more controlled launch as well as a higher MOI that encourages more distance and accuracy on mishits.
If you've already experienced the effects of the Epic Flash driver or fairway woods, something tells me the hybrid might produce very similar results.
Demo and purchase the Callaway Epic Forged irons & Epic Flash hybrids at GOLFTEC!
---
GALLERY: 

Epic Forged irons & Epic Flash hybrids
This slideshow requires JavaScript.
Features & Benefits:

 Callaway Epic Forged irons
Callaway Epic Forged irons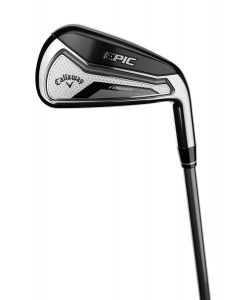 Ultra-Premium Forged Design For Pure Sound & Feel
A stunningly beautiful design, from the Platinum Chrome finish to the precise shaping. Every surface and detail was carefully considered and developed through precision engineering and meticulous craftsmanship.
Epic Forged creates incredibly pure feel, with exceptional sound and turf interaction at impact from a Forged 1025 Carbon Steel body. And Callaway has implemented their patented urethane microspheres to comprehensively absorb unwanted vibration without slowing the face.
Controlled Launch and Distance From the Suspended Tungsten Core
For the first time ever in a forged iron, Callaway implemented their Suspended Tungsten Core. It suspends the custom tungsten weight using their Urethane Microspheres, allowing them to precisely position the Center of Gravity. The revolutionary design promotes controlled launch and long, consistent distance.
360 Face Cup For Industry-Leading Ball Speeds
Callaway's renowned 360 Face Cup employs a shallow, flexible rim around the perimeter of the face that flexes and releases at impact to promote fast ball speed for long, consistent distance on center hits and off-center hits.
Spin Control VFT For Consistent Distance
To provide spin and control in the mid and long irons, Callaway has applied a new VFT pattern which promotes consistent ball speed and spin rates.
Ultra-Premium Components
To complete the performance package, Epic Forged is available in stock Aerotech Steelfiber FC and Mitsubishi Tensei AV Silver Shaft options, and Golf Pride Tour Velvet Grips.
*Epic Forged irons offered in 4-SW
*Stock shaft offerings include Aerotech Steelfiber FC (70g (A), 80g (R), 90g (S)) and Mitsubishi Tensei AV Silver (50g (A) & 60 (R, S))
*Shaft weights based on weight class
Retail starting at $299.99 and hits shelves on July 26, 2019

Demo and purchase the Callaway Epic Forged irons at GOLFTEC!
Callaway Epic Flash hybrids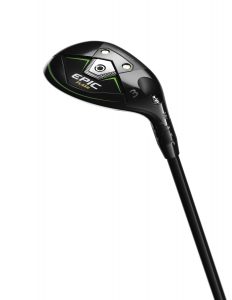 Fast Ball Speeds From Jailbreak Technology and an Ultra-Thin Face Cup
Callaway's revolutionary Jailbreak Technology incorporates two internal bars that stiffen the body, placing more impact load on the face to promote fast ball speed and long distance.
Enhanced Launch and Trajectory Control From MIM'ed Tungsten Weighting
Precisely shaped MIM'ed tungsten weight optimizes CG for launch and control while an external MIM'ed weight precisely dials in swingweight.
Controlled Launch And More Forgiveness From A T2C Triaxial Carbon Crown
A new, lighter triaxial carbon fabric called T2C has a tighter weave; the weight it saves versus a steel crown is redistributed within the head to lower the CG for a controlled launch, and to raise MOI for exceptional forgiveness on off-center hits.
Optimized Adjustability and Control
The new, lighter OptiFit 3 Hosel makes it even easier to dial in your launch and optimal ball flight for total adjustability. And the premium Mitsubishi Tensei AV Silver shaft offers a mid launch, mid spin profile.
*Epic Flash Hybrid offered 3H- 6H
*Stock shaft offerings include Mitsubishi Tensei AV Silver (60g (A), 65g (R), 70g (S))
*Shaft weights based on weight class
Retail starting at $299.99 and hits shelves on July 26, 2019

Demo and purchase the Callaway Epic Flash hybrids at GOLFTEC!
---
Like our content? Subscribe to the GOLFTEC Scramble for the latest on instruction, news, equipment and more!