Thirty-five GOLFTEC Coaches receiving Golf Digest top honors is rare, but the reach of our coaches is much more unique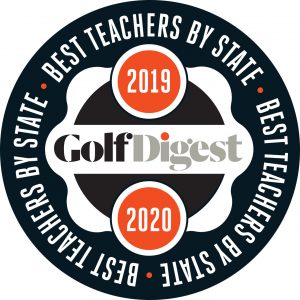 We know our Coaches are good. And every other year, a handful are recognized for their outstanding teaching by Golf Digest and honored with the 'Best Teachers in Your State' award. This list is comprised of the nation's Best Teachers in each state, as chosen by a survey conducted by Golf Digest.
In years past, GOLFTEC has had solid representation on this list, but as our company continues to grow and we continue to achieve our mission to help people play better golf, the number of coaches gracing this list multiples.
This year, 35 GOLFTEC Coaches from 19 states were awarded this honor.
---
The GOLFTEC Way
Having 35 Coaches from one organization receive this honor is something unique in itself, but the significance of the connection of all of these top Coaches is what makes it so rare.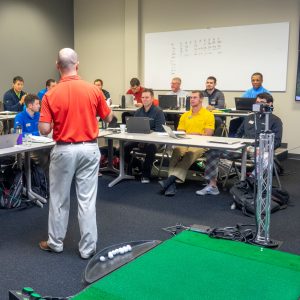 Every single one of the 800 GOLFTEC Coaches across the world makes up a one-of-a-kind community. This community begins with our Teaching Quality Team at GOLFTEC Headquarters, located in Denver, Co., who leads our exclusive teaching and continued education efforts at GOLFTEC University (GTU).
Every single new Coach who walks through GOLFTEC's doors must complete GTU before ever teaching a lesson or performing a club fitting.
The education doesn't stop once Coaches leave GOLFTEC Headquarters. Each GOLFTEC Coach is connected via multiple internal communication platforms. If a Coach is struggling with a student's swing or has a question regarding anything industry-related, a simple ask to our army of 800 Coaches will get the question answered quickly.
And as we all know, the golf industry is continuously evolving, and we have to stay on top of it if we want to help our students play their best golf. This is accomplished by continued education outside of GTU with ongoing training modules, monthly and quarterly tests to ensure every single GOLFTEC Coach, from the new guy who just graduated GTU to the veteran Coach who is on the 'Best Teacher in Your State' list for the third time, never misses a beat.
Access to the best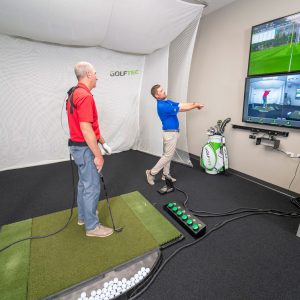 So, what does all of this have to do with the 35 Coaches that made this Golf Digest list? In regards to the education system we mentioned, almost all of the 35 Coaches completed that instruction. And four of the 35 Coaches on this list are the ones leading GTU. So, every GOLFTEC Coach is being taught by the best of the best.
And the internal communication platforms? These 35 Coaches are very active. If you're a new Coach, and you throw out a question to the GOLFTEC universe, who knows, it might be Nick Clearwater who responds. He does happen to be GOLFTEC's Vice President of Instruction, a Top 50 Teacher in America, No. 1 Teacher in Colorado, multiple Golf Digest 'Best Teacher in Your State' and 'Best Young Teacher in America' recipient.
As a result, if you are the student of said Coach above, who is getting advice from Clearwater, then you are getting instruction from a Top 50 Teacher in America. The experience and expertise of these 35 GOLFTEC Coaches aren't selfishly reserved for their students; it's shared among the entire GOLFTEC community of Coaches and students. And that's the GOLFTEC Way.
---
How a GOLFTEC Coach is Made
---
Golf Digest's 'Best Coaches in Your State'
California
Jerome Andrews, GOLFTEC El Segundo, El Segundo, CA
Colorado
Nick Clearwater, GOLFTEC Headquarters, Centennial, CO (#1 in State and #33 in America)
Patrick Nuber, GOLFTEC Headquarters, Centennial, CO
Zach Lambeck, GOLFTEC Headquarters, Denver, CO
Brad Skupaka, GOLFTEC Headquarters, Denver, CO
Ty Walker, GOLFTEC Denver Tech Center, Denver, CO
Nathan Morris, GOLFTEC Westminster, Westminster, CO
Chad Miller, GOLFTEC Chapel Hills, Colorado Springs, CO
Jerred McKinney, GOLFTEC CentennialCentennial, CO
Vincent Downie, GOLFTEC Park Meadows, Englewood CO
Connecticut
John Vitale, GOLFTEC West Hartford, West Hartford, CT
Florida
Steve Lippincott, GOLFTEC Westshore, Tampa, FL
Illinois
TJ Sullivan, GOLFTEC Oak Brook, Oak Brook, IL
Indiana
Ryan Schrencongost, GOLFTEC Carmel, Carmel, IN
Kansas
Brett Beard, GOLFTEC Overland Park, Overland Park, KS
Louisiana
Ryan McGwyer, GOLFTEC Baton Rouge, Baton Rouge, LA
Michigan
Ian Hughes, GOLFTEC Grand Rapids, Grand Rapids, MI
Minnesota
Oliver Darby, GOLFTEC Bunker Hills, Coon Rapids, MN
Nick Pelle, GOLFTEC Minnetonka, Plymouth, MN
Maryland
Kevin Tanner, GOLFTEC North Bethesda, North Bethesda, MD
Nebraska
James Kinney, GOLFTEC Omaha, Omaha, NE
Nevada
Tim Sam, GOLFTEC Henderson, Henderson, NV
New Jersey
Brian Gussis, GOLFTEC Woodbridge, Metuchen, NJ
New York
Dan Benzenberg, GOLFTEC Carle Place, Carle Place, NY
Ohio
Joe Stago, GOLFTEC Dublin, Dublin, OH
Nick Paez, GOLFTEC Cleveland West, OH
Rhode Island
Ryan Galloway, GOLFTEC Rhode Island, Cranston, RI (#1 in State)
Texas
Doug Strawbridge, GOLFTEC Upper Kirby, Houston, TX
Erik Wait, GOLFTEC Plano, Plano, TX
Wisconsin
Tim Boegh, GOLFTEC Madison, Madison, WI
Todd Gamroth, GOLFTEC Wauwatosa, Wauwatosa, WI
Kevin Kihslinger, GOLFTEC Mequon, Mequon, WI (#1 in State)
Brendan Locke, GOLFTEC Mequon, Mequon, WI
Washington
Chris Runyan, GOLFTEC Spokane, Spokane, WA
Josh McKinley, GOLFTEC Spokane, Spokane, WA
---
Like our content? Subscribe to the GOLFTEC Scramble for the latest on instruction, news, equipment, and more!