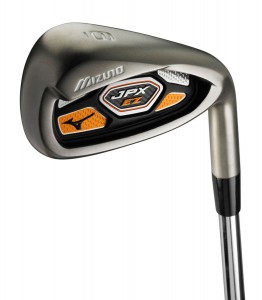 The folks at Mizuno are at it again with another great innovation in golf club technology–specifically with their latest release of irons that are built to help golfers with a mid to high handicap.

JPX-EZ Irons
Pros
Highly ranked quality and performance; Great entry for high handicap players looking to get more out of their game!
Cons
Need to offer an EZ version of the lob and sand wedge to maintain the same look throughout the set. Currently have to purchase the JPX wedges to complete the set. Price: $699.99 Steel; $899.99 Graphite
Handicap Spectrum: 10 to 35
Mizuno's JPX-EZ irons are truly easy to hit and offer proven forgiveness. The Hot Metal Face technology and Ultra-Pocket Cavity in the 4 through 7 irons give these golf clubs a higher launch angle with a longer and tighter dispersion pattern down range. In the JPX-EZ 8 through Gap Wedge you'll find a new deep pocket technology for increased accuracy and trajectory control where you need it most. They are also designed with a massive sweet area for maximum forgiveness.
The JPX-EZ golf clubs provide forgiveness, distance, and accuracy throughout the set and are a strong competitor in the Game Improvement market. You can even create your own custom mixed combo sets with the options of the JPX Fli-Hi irons to make a win-win combination.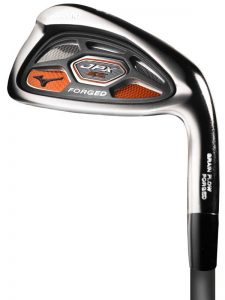 JPX-EZ Forged Irons
Pros
The most forgiving forged iron in Mizuno's 2014 lineup; Great feel and performance; longer than most forged irons
Cons
The Forged series does not offer a lob or sand wedge, so the consumer has to buy the mismatched JPX Series wedges to complete his set.
Price: $899.99 Steel; $1099.99 Graphite
Handicap spectrum: 8 to 18
The JPX-EZ Forged Irons allows the golfer to stay aggressive and go for the pins! Mizuno's patented Grain-flow forging delivers exceptional feel with explosive distance. This golf club is built from a single billet of 1025E mild carbon steel which provides the unmatched feel. Mizuno also incorporates an undercut cavity for unbelievable forgiveness and harmonic impact technology (H.I.T.) that provides a great, solid feel at impact. Add in a deep center of gravity for an effortless flight and multi-thickness face technology for maximum ball speed in a forged iron and you've got a complete performance package.
The JPX line and all other Mizuno golf clubs will be featured in our upcoming Try-It Series event during the week of March 17th through the 23rd in many GolfTEC locations. Check with a GolfTEC Coach for dates and times to get fit for custom golf clubs. And don't forget to continue to check our blog for more golf club reviews and information on the latest golf equipment.