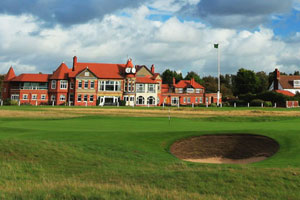 The oldest of the four major championships, The Open, inaugurated in 1860, has only been skipped during times of war (1915-1919 and 1940-1945) and once due to a lack of a prize (1871). The current champion, Phil Mickelson, joined the ranks of champions in 2013 when he shot a 66 (-5) in the final round, edging out runner-up Henrik Stenson. That match was played at Muirfield, host to sixteen championships to date. Muirfield is a links course arranged as two loops of nine holes, one clockwise, one counter-clockwise (out and in), and was extended by 211 yards following the 2002 Championship game, bringing the total yards to 7,245.
But this year, the championship is being played at the Royal Liverpool in Merseyside in North West England. Here, an extra competitor stalks the greens and whether you're Rory McIlroy, Keegan Bradley, Phil Mickelson, Tiger Woods or Sergio Garcia, you need to be prepared for this competitor known simply as – The Wind. Winds, blowing in off the Irish Sea, is the biggest defense offered at Royal Liverpool. You have mounds and moguls, uneven stances, thick heather and deep pot bunkers – even flat greens – but it's the wind you have to watch for.
We were discussing the course here at GolfTEC, and had some interesting responses to our questions.
Mike Clinton, COO and Co-Founder of GolfTEC, offered his thoughts:
Second valuable shot?
"A shot they can trust from right around the greens. For some it might be a pitch, others a chip, others a hybrid or fairway wood along the ground, and some might putt. Martin Kaymer had great success at Pinehurst in the US Open using a putter from off the green. A number of years ago (even before hybrids were as accepted as they are today) Todd Hamilton used a hybrid for many of those little bump and run shots around the green. The most important thing is for a player to have a shot he can trust."
Does the course favor any individual pro?
"The course has a ton of bunkers and avoiding them will be priority number one (as it was for Tiger when he won there). This should bring some of the shorter more accurate drivers into play. Zach Johnson, Graeme McDowell, Martin Kaymer, and Sergio Garcia all come to mind as overall good drivers of the golf ball."
What should viewers watch for?
"Certainly we will all enjoy the great golf that happens in a major, but for our Clients I would say watch and focus on the part of your swing or game that needs improvement. If you are working with your Coach on your top position watch that position in the players swings. If you are working on your putting, key in and focus on what the best players in the world do when they putt. And so on."
Whose gonna win?
"The Open Championship can produce some unlikely winners, but I have no idea how to predict that, so I will go with a couple of the top players who are playing well (and one not quite yet a household name). Justin Rose is playing solid golf of late and has a major to his credit. Adam Scott is the same – playing well, has a major, and has been close in the Open in the recent past. A little longer shot is Jimmy Walker, he has had a great season, a few wins already, looks like one of those players ready to take that next step. If I have to pick one, give me Adam Scott – great all around game, fantastic golf swing (my favorite to watch), and he seems to be a factor in most majors."
Justin Rister, Certified Personal Coach at GolfTEC Cool Springs south of Nashville, said:
Second valuable shot?
"We know the knockdown shot is extremely important for links style courses like the Royal Liverpool. After the knockdown shot, the most important shot for players competing in the Open Championship is the 5 to 30 yard (yes yard) putt from off the green.
Does the course favor any individual pro?
"The course setup favors the plotter type of player. There are so many bunkers to avoid. I like a guy like a Jim Furyk or a Jordan Spieth who likes to think their way around a golf course. When Tiger won here in 2006 he avoided the bunkers by playing short of them off the tee."
What should viewers watch for?
"Watch for changes in the weather and course conditions. It can play fast at the start of the day and one hour later be soft because of the rain. Watching how players deal with the luck of the draw is always the most interesting dynamic to me. The top three players to look for are:
Justin Rose (born in the UK, Top 10s in 4 of last 6 starts including a win at Congressional)
Martin Kaymer (winner of the two of the biggest three tournaments this year. Master of putting from off the green)
Rory McIlroy (He's been spending a lot of time in Ireland playing Royal County Down, prepping from links golf. If he gets the right draw of tee times after the rains and the wind dies down, he will be a factor with his high hitting trajectory)."
Whose gonna win?
"The winner and Champion golfer of the year will be Martin Kaymer!"
Now it's your turn –
What is the second most valuable shot for players in the Open Championship this year?
Does the course setup at Royal Liverpool favor the game of any individual pros? If so, who?
What should viewers watch for during the Open this year?
Who is your pick to win the 2014 Open Championship & why? Who are your top 3?
Tell us your answers in the comments!