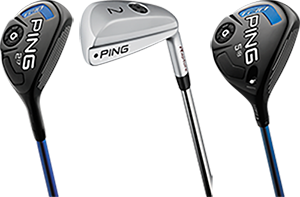 In honor of the Open Championship being played this week, I thought it would be a good time to look deeper into the trend of driving irons. This week especially, we hear a lot about tour players putting these specialty clubs in the bag. Coincidentally, many manufacturers will also coordinate the launch of the latest and greatest driving irons with the start of the British Open.
First, lets talk about the benefits of the driving iron and why they are so popular for the world's best players. The driving iron offers a smaller, more compact head design than a hybrid, yet more forgiveness than a traditional 2 iron. This smaller head design pushed the center of gravity (CG) closer to the face and creates less dynamic loft at impact. For weeks such as this, where wind typically plays a factor, that creates a lower, more penetrating ball flight, due to a lower launch angle and decreased spin rates.
Those are great benefits, IF you create enough club head speed and strike the ball consistently in the middle of the face. However, there is a trade-off for moving the CG closer to the face to create that low, boring ball flight. That trade-off is a significantly reduced Moment of Inertia, or forgiveness. The miss hits with a driving iron will be much more noticeable and you will see a clear loss of distance and accuracy.
While the driving irons get the entire buzz this week, don't be fooled, fairway woods and hybrids are still the best option for the majority of us. A head design that is typically deeper from front to back allows the CG to be pushed back and down creating a higher launching, higher spinning ball flight. The benefit is a ball that stays in the air longer helping to create appropriate gaps and carry distances in place of the harder to hit long irons and driving irons. In addition, the CG placement on a fairway wood or hybrid also creates a much higher Moment Of Inertia allowing much needed forgiveness on miss hits.
The biggest key to finding the right hybrid, iron, and fairway wood combination is being properly fit. Each player will have a different ideal combination based on his or her own ball speed, launch angle and spin rate. Contact your local GolfTEC coach and schedule a TECfit today before you fall prey to the hype that is the driving iron.