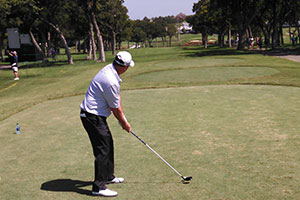 The U.S. Senior Open. More than 120,000 spectators will be watching 156 Professionals and Amateurs play the highly ranked Oak Tree National Course – designed by Pete Dye – in Edmond Oklahoma. Oak Tree is a very windy course with hilly terrain and difficult, Bent grass greens. From the championship tees, the course measures 6,873 yards. Some of the greatest names in golf have played here; from Jack Nicklaus and Arnold Palmer all the way to Hale Irwin and Allen Doyle.
Today, GolfTEC's own Stuart Blasius, Certified Personal Coach from our Woodland Park, NJ, Improvement Center, has joined the ranks of those champions and stepped up to the tee at the U.S. Senior Open. Stu shot a 67 (4-under) on June 19th to qualify for the Senior Open, finishing T-2 out of 127 players.
We couldn't be more proud of Stu, and wanted to bring you his story live from the U.S. Senior Open in the days ahead. Below is Stu's own account of his first days of practice at Oak Tree, along with his caddy's – GolfTEC Certified Personal Coach Bryan Vander May – observations.
Stuart Blasius
Certified Personal Coach
GolfTEC
Woodland Park, NJPGA Status: PGA MemberEmail: sblasius@golftec.com
PH: 973-890-0817GolfTEC Woodland Park
Inside Golfsmith
1750 Route 46 West
Woodland Park, NJ 07424
Stuart Blasius
Bio: Stuart has been a PGA Member since 1991. Joining GolfTEC in 2007, Stuart has taught over 12,000 lessons and is a 6-time recipient of GolfTEC's Outstanding Achievement in Instruction Award. Stu played collegiate golf and won multiple PGA tournaments.
We arrived Saturday evening and drove to the hotel in a Lexus RX350 courtesy car. Very nice ride for the week. Sunday we went to the course and hit some balls before heading to the first tee. Very few players had arrived yet. However, I met Roco Mediate and had a few laughs together because we have a mutual friend. I asked if he had a game already and unfortunately he did, so Bryan and I went to the tee by ourselves.The course is very hard and because it's Oklahoma, very windy. I was not nervous. If anything, I felt calm.On Monday, the atmosphere changed completely as spectators and players were mulling about. My sense of calm evaporated and I chunked a wedge or two. We went to the first tee and played with Scott Hoch, Damon Green and John Demarco. I piped my first drive and played a solid second to the green, and I relaxed.My only swing thought was to focus on my target and make a full swing. What I am learning is to stay in the moment and not attach judgment to the results. It is so important that as coaches we train our student's to play more freely with less clutter in the form of swing thoughts and pick a target and commit.
Bryan Vander May
Certified Personal Coach
GolfTEC
Englewood, NJEmail: bvandermay@golftec.com
PH: 201-567-0103GolfTEC Englewood
380 Nordhoff Place
Englewood, NJ 07631
Bryan Vander May
Bio: Graduated from the Golf Academy of America with extensive teaching and club fitting knowledge. Worked at Echo Lake CC and has taught individuals of all levels. Competes in local professional tournaments. Has a passion to help you reach your goal.
Stu's swing is just as good as a tour pro's and is a testament to the GolfTEC Proven Path to Proven Results.Today on the range warming up in front of the crowd, me and Stu worked mainly on focusing the tempo in his swing. Also gave him some positive thoughts. He was nervous, but I pointed out he had earned the right to play in this tournament. I needed him to be in the right state of mind.While on the course I helped with yardages, picking out possible hole location so he could work on putts and hitting shots around the green to those locations. Also was taking high speed video on course while Stu was playing to help with feedback on shots. I'll try to share those videos later in the week. The heat is a factor here, and was starting to wear him down. You may have seen the water advisory issued by the U.S.G.A., so it will be important to keep Stu hydrated.

After the round Stu worked on turning more to the top and rotating through all the way. This happens because he tends to get short in the back swing which causes a miss right or a flip left when tired.
---
We'll bring you more of Stu's experiences at the 2014 U.S. Senior Open throughout the week – so check back often!