Faster, Straighter and More Distance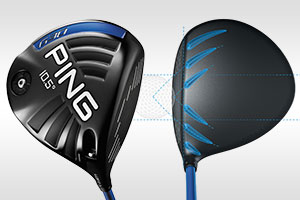 With the launch of the new PING G30 driver and fairway woods, the golfing world has been introduced to turbulators. Naturally, the next questions is, what are turbulators and what do they do?
In short, turbulators are the six ridges, or fins, that grace the crown of the G30 driver and fairway wood. They are a result of extensive research by PING, with help from Arizona State University and their wind tunnel, on how to reduce aerodynamic drag and help you swing the club faster for longer drives. Swinging the club faster should help create more ball speed and, of course, MORE DISTANCE!
While the turbulators are the big story, the technology changes don't end there. By using a new T9S titanium in the face of the G30 driver, the engineers at PING were able to create higher ball speeds due to increased face deflection. At the same time, the new material is lighter, allowing for a lower, deeper center of gravity. The net result, the ball goes faster, launches higher and spins less. Translation: EVEN MORE DISTANCE!!
If you aren't sold already, PING was also able to add another two degrees of loft adjustability without adding mass to the hosel. Add that to the fact that G30 will also come in a SF (Straight Flight) Tec version to shift the center of gravity into the heel to help square up the face more quickly to aide in straightening out that slice. That means…STRAIGHTER DISTANCE!!
From what I can tell, there is a long list of reasons for you to schedule a TECfit golf club fitting with your local GolfTEC Center and give the new PING G30 line a try for yourself.
Until you can get your own hands on a PING G30 at your local GolfTEC, check out Bubba Watson testing them out in the video below: