Throughout the week at the Open Championship at Royal Liverpool Golf Club, Rory McIlroy had talked about two secret words he used as his trigger for the shots he played and that he would only reveal them if he were to win the tournament. As Sunday evening rolled around in England, Rory was addressing the media with the Claret Jug at his side.
When asked about the secret words, McIlroy said, "Very simple. It's going to be a big letdown for everyone. It was 'process' and 'spot.' That was it." He elaborated on the process of his swing. "With my long shots, I just wanted to stick to my process and stick to making good decisions, making good swings. The process of making a good swing, if I had any sort of little swing thoughts, just keeping that so I wasn't thinking about the end result, basically." As for the spot, McIlroy said, "I was just picking a spot on the green and trying to roll it over my spot. I wasn't thinking about holing it. I just wanted to roll that ball over that spot. If that went in, then great. If it didn't, then I'd try it again on the next hole." So why were these two words so crucial to McIlroy's win this past week? It's really quite simple.

These two words helped Rory focus on a few small and repeatable details throughout every round. This repetition provided consistency from day to day and gave him two important elements to rely on when the pressure mounted. But don't be fooled by his comments; McIlroy wanted to make a swing that put him in the best position possible to sink every single putt.
Process & The Pre-Shot Routine
Rory's process was really his pre-shot routine. Many people claim that a pre-shot routine is one of the most important parts of the game because it helps keep the tension and anxiety levels down. It certainly helped Rory throughout the week. During the final round he was even able to follow his process while being heckled through 15 holes! Here's my pre-shot routine: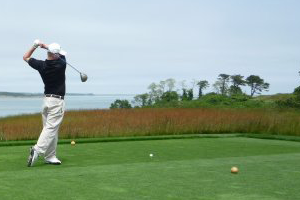 Starting behind the ball, I look down the line of play and take 2 to 3 practice swings. After my practice swings, I select my final line of play along with any shape I want to add to the shot. As I approach the ball, I set up my left-side first (as a right-handed golfer) to make sure the ball position is right where I want it to be. I finalize my set-up position with the club and right-side of my body as I look down my intended target line. Once completely set-up I look to my target one more time, adjust my feet, set the club down, look at the ball, and start my back swing.
It's important as a golfer that you find the routine which is most comfortable for you. You likely already have a routine you follow whether you know it or not. Everyone's will be different. A friend of mine who is a PGA Member once said that his lack of pre-shot routine was his pre-shot routine, and that's okay too. Find what works best for you and then follow your process.
Pick Your Spot
Learning how to play away from the hole is something all great players have learned. Too many amateur players focus too much on the hole whether it's an approach shot or on the putting green. I am personally a fan of choosing a spot not only for putting on the green, but for shots around the green as well. As you putt, choosing a spot a few inches or feet in front of the ball allows you to focus on trusting your line and getting the proper speed on the putt. Both of these elements are crucial to sinking more putts and by simplifying the putting process you will be on the right track to learning how to play away from the hole.
This method is also beneficial for pitching and chipping from off the green. I like to select a landing zone or spot I intend to land my chip and let it release from. Rather than focusing on how far away from the hole I am, I can judge my distance based on how hard I hit my shot to the landing zone.
Again, this varies from player to player and everyone will have a different approach to their short game. The most important thing is finding a process that is the most comfortable for your game and makes each shot easier to handle.
These are just a few ways to make the game easier to manage in any situation. Whether you are playing with your buddies or trying to win the Open Championship, be sure to follow your process and pick your spot.
Do you need help in developing a pre-shot routine that's best for your game or determining the best way to choose your spots around the golf course? Talk to a GolfTEC Coach today!