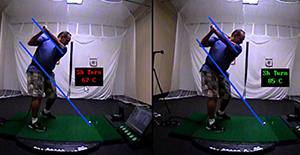 Greg Sandler started playing golf three and a half years ago and was a 38 handicap. Like many golfers he wanted to hit the ball more consistently, make better contact, and shoot lower scores on a regular basis. While visiting Golfsmith, Greg decided to check out the GolfTEC Improvement Center in the store before purchasing a new driver. That was the beginning of continued golf improvement and enjoyment for Greg – here's what he had to say:

"I struggled with the game and was beyond frustrated listening to every golf course "expert" I played with. I managed to get my game down to a mid-20's handicap but plateaued and continued to struggle a great deal. Last year I went into the Golfsmith in Naples, Florida to purchase a new driver. The TaylorMade rep Peter suggested that before I spend the money buying a new driver, I go see Nic and Ryan at the GolfTEC located in the store for some work on my game. He thought this was a better direction for my game at the time.

I spoke to Nic and ended up buying a package of lessons. After my Swing Evaluation, a few in-store lessons, and a playing lesson at the club I belong to in Naples, I had a variety of drills to work on and suggestions to improve my game. Today I am a 12.7 handicap hitting my driver straight, irons more consistent and now I'm working on my short game!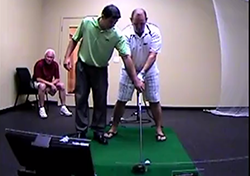 Thanks much to Nic and Ryan – GREAT JOB guys. They understand everyone isn't Bubba or Phil and make you feel comfortable with your own swing. They suggested Tour players to compare my swing with who have similar styles (I am a Mark O'Meara) and helped me understand my own body's strengths and limitations. They really care about their clients and have a genuine zest and excitement for teaching the game."

The excitement for Greg's great improvements is shared equally with his coaches. Here is what Nic Ondriska had to say about working with Greg on his golf game:
Nic Ondriska


Certified Personal Coach




GolfTEC




Naples, FL

Email: nondriska@golftec.com
PH: 239-514-4653

GolfTEC Naples
6428 Hollywood Blvd
Naples, FL 34109

"Greg has made A LOT of progress here with us at GolfTEC Naples in an extremely short period of time. We originally began working with him on his takeaway to the top position. Greg's tendency was to get very short with his shoulder turn leading to his big flaw of swinging on an outside-to-in path in the downswing. This created a lot of errant shots and inconsistency (low pulls and slices). Once Greg was completing his full shoulder turn he was able to swing the club on a more consistent path leading to better shots and added distance!

After this we started working on his short game and course management style. We were able to focus on his technique around the golf course and help understand what shots to hit and when to hit them based on the lie, situation, etc. Overall, working on all facets of his game has helped Greg gain a better understanding of his swing and the benefit was consistently longer distance and lower scores!"

Bio: Nic was the first student from The Queens University of Charlotte Professional Golf Management Program to become a Head Golf Professional. After competing professionally for over 3 years, Nic became a GolfTEC Certified Personal Coach.
Greg Sanders isn't the only person to see such strong improvements in his golf game. See how others have improved with GolfTEC in our client success stories!
Do you want to improve your game like Greg and the thousands of other GolfTEC clients? Get started with GolfTEC to start playing better golf today!