Making Golf Easier One Trick At A Time
Have you ever stumbled upon a list of "life hacks" that made you say, "why didn't I think of that before?!" Quick and creative ideas like using a paper clip to easily keep the end of a tape roll, painting nail polish on different keys to tell them apart, or my personal favorite – sticking a fork in the center of an Oreo to keep your fingers dry when dunking the cookies in milk.
The possibilities are endless and at GolfTEC we think it's time to look at life hacks for the great game of golf. Here are 5 life hacks for golf, or "Golf Hacks," to get you started.
Store Tees, Markers, & Other Small Items
From your home bar, grab a whiskey bag to store your tees, repair tools, and other items. Now you'll be able to grab all the essentials for your round in half the time. You can even use a second bag as a valuables pouch for watches, cell phones, and other items.
Keep Your Grips Dry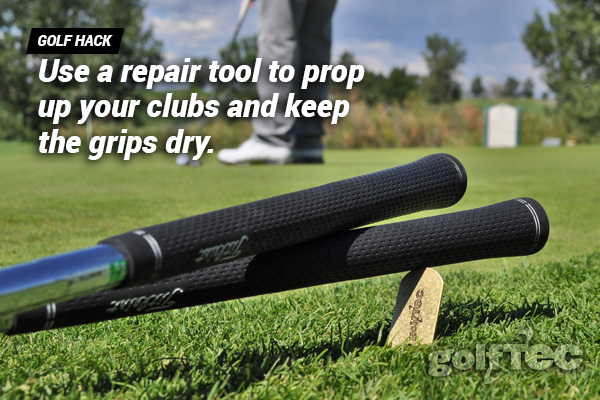 At some point during a round of golf, you've undoubtedly set your clubs down on the grass only to pick them up with wet and slick grips. Try using a repair tool or tee to prop up your clubs around the greens and keep your grips from getting wet.
Line Up Your Putts With Help From A Sports Drink!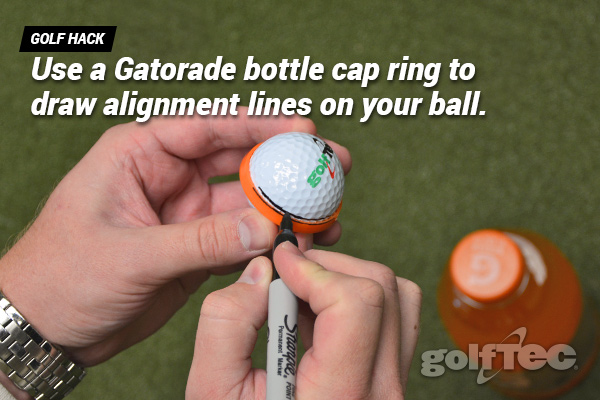 You constantly see tour players use lines on their golf ball to better align their putts. Why not give it a shot? Grab a sports drink at the supermarket (32 oz. Gatorade™ works best), take off the plastic ring from the cap, and place it around the golf ball. Draw a line with a permanent marker on the center of the ball and you can easily line up all of your putts!
Stop Digging For Your Car Keys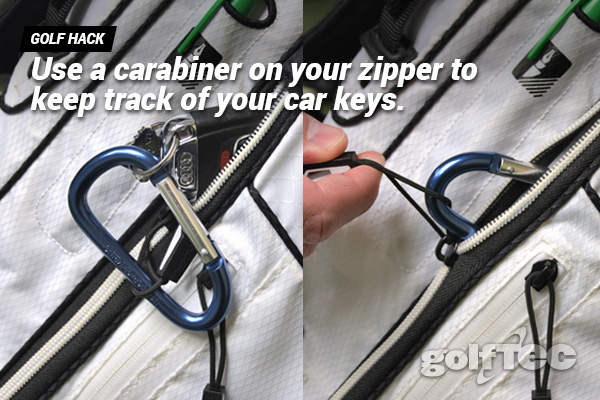 Wouldn't it be nice not to clean out your bag at the end of each round just to find your car keys? Use a carabiner to attach your keys to the inside of one of the bag pockets. You can attach it to a zipper and flip the loop to the inside of the bag to make it easy and convenient.
Get The Grass Off Your Spikes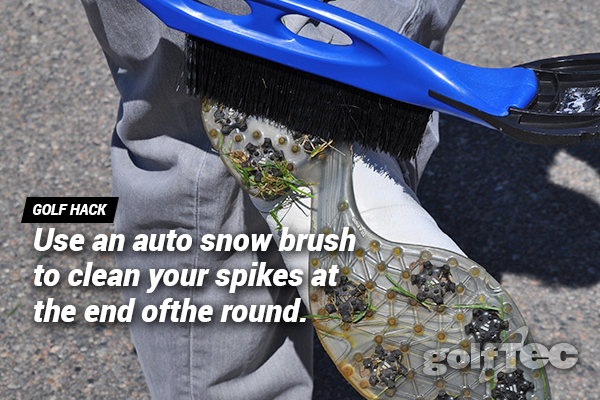 Don't you hate dragging grass and dirt into your car after your round? You can easily clean off the bottom of your golf shoes using a car snow brush or club brush. No more old grass smell in your locker or the trunk of your car!
What other hacks do you use for golf? Tell us in the comments and your golf hacks may be featured in our next round of tricks! Be sure to subscribe to the GolfTEC Blog for additional golf resources, drills, and news. If you're interested in improving your golf game, we can help. Learn how you can get started with GolfTEC today!