Congratulations to James Kinney of GolfTEC Omaha on being named one of the Best Young Golf Teachers in America! In the November 2014 issue of Golf Digest Magazine, James debuted on the list of 40 under 40 who are the best of the best at teaching golf. We thought it would be good for everyone out there to get to know James better, so we sat down and asked him a few questions.

Name: James Kinney
Email: jkinney@golftec.com
PGA Affiliation: PGA Member
Center Name: GolfTEC Omaha
Phone #: 402-905-2990

First off, congratulations on your award! Everyone at GolfTEC are proud of you! I just wanted to ask you a few questions so our blog and newsletter readers can get to know you a little better and understand what makes James such a great coach.

What's your favorite part of teaching golf?

Getting people better at playing golf. Improving the golf skills of the average golfer. Also, helping junior golfers get better. I just love helping people play better golf no matter what skill level they're at when they walk into that bay with me for the first time.
How long have you been coaching/teaching golf?
15 years.
What's your favorite golf teaching moment?
Every time a student shoots their career best score, I get thrilled. Their excitement at that achievement is infectious. Also, when my juniors go on to play golf in college, taking what I've taught them and moving forward with their game, you can't beat that feeling. It's about fostering the next generation of golfers.
Do you have any stand-out moments or student success stories you'd like to share?
There are a lot, actually. Playing Division I golf at Creighton University for four years, Competing in the Web.com Cox Classic 2008 and 2009 was amazing. Being named Nebraska PGA Teacher of the Year four times means I am doing my job, my students and peers recognize the value I bring in helping people play better golf. And then, of course, there's being named one of Golf Digest's Best Young Teachers in America.
What inspired you to play golf in the first place?
I grew up playing a lot of golf and have always loved to play and compete. I started when I was 4 year old!
What's your favorite golf memory?
Playing in the Web.com Cox Classic in 2008 and 2009. Ryan Hietala beat out David Brinshaw and Skip Kendall in 2008. Rich Barcelo took it in 2009, a stroke ahead of Tom Gillis and 2 ahead of Brent Delahoussaye. Playing on that level is challenging, and I was excited to be a part of it.
Who were/are your greatest golf influences?
My greatest influence in golf was Tony Pesavento who is a PGA Professional in Omaha that helps with the Creighton University golf program.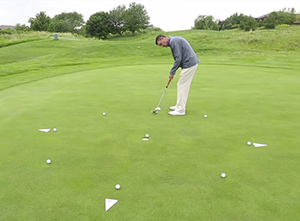 Is there one area of your coaching/teaching where you are more passionate than others?
Short Game, specially green reading. I recently got certified in AimPoint Express green reading, and I'm the only AimPoint Express instructor in the Midwest. AimPoint is a very systematic green reading system to help you make more putts – and you never can make enough putts! Once you train your feet to feel variations of slope, it's easy to convert that to a putting line that is highly accurate.

With your responsibilities as a coach/teacher, do you get to play much golf yourself? Do you have a favorite local course?
I play in 5 or 6 Nebraska PGA Pro Ams per year. I am a member at a local country club in Omaha and I try and play 9 holes once per week. I lowered the floor in my basement and built a home golf studio where I do most of my practicing.
Wow! That's amazing. Care to share any photos of the remodel?
Sure. As you can see, there's plenty of room for me to swing and work out. And I can work on my short game, really, whatever I need. Plus, it's a family affair. Need to foster that next generation of golfers.

Anything else you'd like to tell all the golfers out there?
If you want to get better, you need to understand what's wrong first, before you can get better. This is where GolfTEC excels. Our Swing Evaluation gives us so much information and really lets us dig into what's going on, and develop a plan of attack to improve your game.
And, if you're serious about golf and interested in getting better long term, not just looking for a quick fix, I'd love to take you on as a student.
Thanks James!
For more information about James or to schedule a lesson with a Coach at GolfTEC Omaha, visit their web page and drop them an email or call at 402-905-2990.