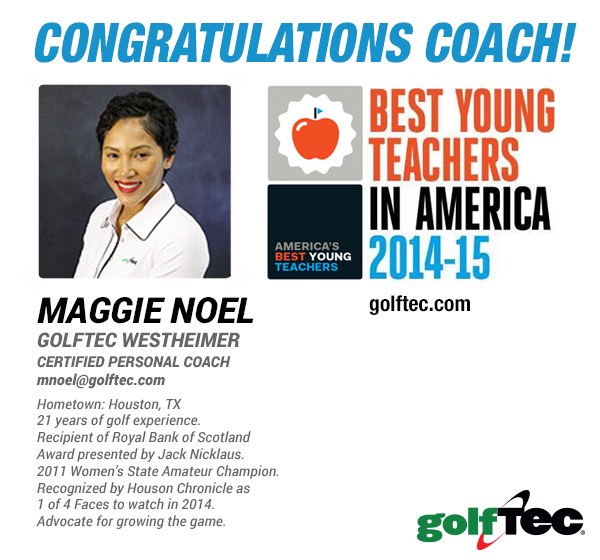 Congratulations to Maggie Noel of GolfTEC Westheimer on being named one of the Best Young Golf Teachers in America! In the November 2014 issue of GolfDigest Magazine, Maggie debuted on the list of 40 under 40 who are the best of the best at teaching golf. We thought it would be good for everyone out there to get to know Maggie better, so we sat down and asked her a few questions.
Name: Maggie Noel
Email: mnoel@golftec.com
Center Name: GolfTEC Westheimer
Phone #: 713-339-2470

First off, congratulations on your award! Everyone at GolfTEC are proud of you! I just wanted to ask you a few questions so our blog and newsletter readers can get to know you a little better and understand what makes Maggie such a great coach.

What's your favorite part of teaching golf?

My favorite part about teaching is when my students come back to me on their next lesson in so much excitement because they played their best round over the weekend. You can't beat that feeling.
How long have you been coaching/teaching golf?
I have been teaching golf for about 2 years.
What's your favorite golf teaching moment?
My favorite teaching moment is when my students "get it", they see results, and reach for a high five. There is nothing more exciting than being the reason someone is excited about their game.
Do you have any stand-out moments or student success stories you'd like to share?
Witnessing one of my junior golfers win consecutive tournaments this Summer has been such a thrill and a joy to be a part of. Just the year before, she was very shy on the golf course, hardly any confidence, and now she is tearing the greens up and racking up the medals. She is a completely different player and I look forward to her future with golf.
What inspired you to play golf in the first place?
My dad played a huge role in my involvement with golf. Actually, he is the reason I played in the first place. He knew I had a raw and pure talent for the game and drove me to pursue it.
What's your favorite golf memory?
My favorite golf memory would definitely be winning the 2011 Women's State Championship after taking a whole year off from playing golf. I came back with barely any instruction under my belt, hardly making the cut to the match play, to wining the entire thing!
Who were/are your greatest golf influences?
Definitely Tiger Woods. Despite the personal issues, he paved a way for the urban community to identify with golf, with it as a sport. I am piggy-backing off of that and trying to continue to grow the game of golf in the urban community.
Is there one area of your coaching/teaching where you are more passionate than others?
Teaching women and especially girls in the urban community. I feel like it's so important to stress to my female clients that this sport is, in fact, not intimidating like society makes it seem. But, in fact, accessible and fun!
With your responsibilities as a coach/teacher, do you get to play much golf yourself? Do you have a favorite local course?
I play as much as possible. My favorite courses to play in Houston include Memorial Park Golf Course, Lakeside Golf Club, and Houston Oaks Golf Club.
Anything else you'd like to tell all the golfers out there?
It's true what they say about golf. 10% is the actual skill part of it. The other 90% is what goes on in between your ears. You will play the best games of your life the less you care about your score. The score has already been shot. You just need to show up to the course. Have fun!
Thanks Maggie!
For more information about Maggie or to schedule a lesson with a Coach at GolfTEC Westheimer, visit their web page and drop them an email or call at 713-339-2470.