Get your handicap down to single digits by utilizing these five tips for breaking 80 consistently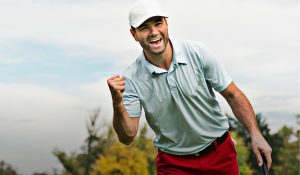 If you are close to the coveted single-digit handicap but struggle with posting enough rounds in the 70s to get there, there are likely a few important areas – aside from your golf swing – that can help you finally break the barrier.
Yes, there are many ways to get around the golf course. But most amateurs don't understand how to put together an effective plan to save those extra shots that often turn a solid 76 into an 80 or worse.
So, let's talk about five key tips you can use that may just get you shooting in the 70s consistently like you've always known you can.
---
1. Hit the green
Sounds obvious, for sure. But hitting more greens in regulation is the first step in breaking 80, because the stats prove this component of the game is a significant key to shooting lower scores.
The average 10 handicapper, for example, will hit only three to six greens in regulation per round. This is compared to the average tour player who, even on the toughest of golf courses, manages to hit somewhere around 12 GIR per round.
Suffice it to say, by merely paying attention to your green-hitting prowess you'll be more attuned to improvement in this area and making more pars. Especially as you start implementing the idea as explained below in Step 2.
2. Don't go flag hunting!
This one is easy in theory but often difficult in practice: When choosing your target line, don't simply aim at the flag every time!
If you want to take a few extra bogies (and doubles) off of your scorecard each round, then choose the smart target line that allows for a more generous landing area on the green and puts the putter in your hands.
Remember, two-putting from 40 feet is MUCH easier then a short-sided chip or bunker shot from 20 feet.
3. Bend it both ways
Learning to shape the golf ball from right to left AND left to right can greatly help your cause to consistently shooting in the 70s.
Since most golf courses have trouble on both sides of the fairway and green, being able to recognize which shot shape is needed based on the trouble, and then executing the shot called for, will go a long way to eliminating those high numbers on your card.
Not sure how to hit both draws and fades on command? Here's a good place to start.
4. Stop putting "through" the hole
Too many times I've seen amateurs run a putt two or three feet by the hole and then miss the putt coming back.
The hole is only 4.25 inches wide, yet when a ball is rolling faster than the hole's ideal "capture speed," the effective size of the hole shrinks, meaning your ball has less of a chance to go in.
So turn those lip-outs into holed putts by making that hole as wide as possible and try to die your putts into the hole instead of jam them in there. Not only will you eliminate those three-putts, but you will also add more one-putts to your card as well.
5. Bomb the driver
Pick up some extra distance on your drives by launching the ball higher, and with less spin, by trying to hit more upward on the ball.
Most amateurs have too much of a downward angle of attack with the driver that robs them of carry distance, which creates too much spin loft and anything but the ideal launch conditions to hit long and straight tee shots. By instead creating an angle of attack that is closer to level or even upward at impact, you may just start noticing those high and long bombs your hitting from the tee are resulting in one less club into the greens and more looks at birdie.
---
---