GOLF STATS: How understanding PGA Tour putting averages can improve your own game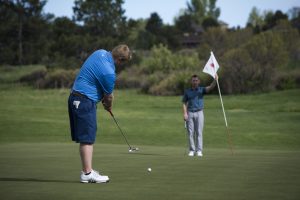 It seems like every Sunday on the PGA Tour Jordan, Justin, DJ or Sergio needs two putts or less from 30 or 40 feet on the last to force a playoff or win the tournament outright.
Which, time and time again, one of these world-class players accomplishes successfully like they could do the job blindfolded.
For us fans out there watching, it's an amazing sight to take in. Though it often leads to a frustrating question when thinking about our own games:
"How do these golfers make those snuggled-up-to-the-hole lag putts look so easy when my own are lucky to end up within 6 or 8 feet from the hole?"
For one, these guys are good.
So good that their average lag putts (the PGA Tour's Approach Putt stat) come to rest just 2 feet, 4 inches from the hole. And since these players virtually NEVER miss from that distance (99.42 percent are made from 3 feet), you rarely see them suffer the dreaded three-putts the rest of us are all too familiar with.
All about those lags
Below we've noted some key PGA Tour putting averages, because we love the facts here at GOLFTEC and it can be beneficial to your game to understand what makes these players such great putters.
---
PGA Tour Putting Average — makes from 3 feet: 99.42%
PGA Tour Putting Average — makes from 6 feet: 70.98%
PGA Tour Putting Average — 3-Putt Avoidance >25′: 91.71%
(This means they three-putt 8.29 percent of the time outside of 25 feet.)
*All stats cited in this article are from the complete 2016 PGA Tour season
---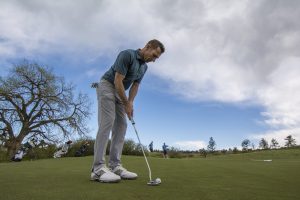 Like I said, these guys are good. But, there's a point so track with me for a minute …
PGA Tour players – THE BEST GOLFERS IN THE WORLD – make nearly 30 percent more putts from 3 feet compared to 6 feet.
That means if these players hit all 18 greens and lag each putt to 6 feet instead of 3 feet, they'll basically three-putt five or six times instead of zero. (In other words, they'll miss nearly one-third of their putts from 6 feet compared to virtually none from 3 feet.)
Of course they DON'T tend to lag it to 6 feet from the hole, which is illustrated with the 2-foot, 4-inch "approach putt" stat and the final stat listed above, 3-Putt Avoidance <25′, that shows just how deft their skill is at lagging it close from long distances.
The point is that even the world's best would three-putt often if they didn't lag it close, so we can see how vitally important solid lag putting is to keeping those extra putts at bay.
Dial in your speed on lag putts to eliminate three-putts
We've previously noted how important speed control is to your putting success. Especially on those long lag putts outside of 25 feet. So, take a lesson from these PGA Tour player putting averages and start focusing on how you can improve your speed on the greens.
Because once you've dialed in your lag putting, there won't be any more questions come Sunday when comparing Jordan Spieth's insane lag-putting skills to your own.
Driving accuracy, though? That's another article.
---
VIDEO:

The No 3-Putt Game for putting speed control
---
Want more help with your putting? Find a GOLFTEC near you and talk to a Coach today!
---
If you like our content, subscribe to the GOLFTEC Scramble for the latest on instruction, news, equipment and more!