GOLFTEC's red carpet treatment at Mizuno USA Headquarters gave insight into the legendary clubmakers
By Jon Levy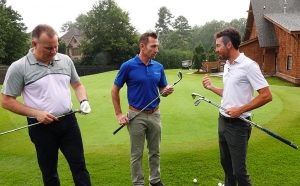 Some perks of my job are more obvious than others.
Case and point: The below video, where GOLFTEC's Dave Pauley and I "suffer" through what was nothing less than a once-in-a-lifetime trip to Mizuno USA Headquarters.
Our fully-immersive Mizuno experience, after all, provided some key insight into everything that makes the legendary golf equipment manufacturer revered by golf purists around the world.
Highlights include an inside look at Mizuno's no-detail-ignored design and manufacturing process, an in-depth club fitting for Mizuno MP-18 irons (and plenty of time testing the goods), and a special look at my actual set of clubs being built at Mizuno USA's giant all-sport distribution center.
Of course, that doesn't begin to cover our incredible experience in the Atlanta area, which gave nothing less than a newfound respect for Mizuno's place is an industry leader in feel and performance.
So, check out the "Mizuno Experience" with that in mind. And, rightly so, learn more about how that trusty set in your bag became worthy of the uncompromising Mizuno name.
---
VIDEO:

The Mizuno Experience
---
---
Like our content? Subscribe to the GOLFTEC Scramble for the latest on instruction, news, equipment and more!