VIDEO: Jon Levy talks all things shaft design with Kim Braly of KBS Shafts at the 2018 PGA Merchandise Show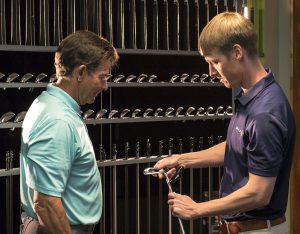 Here's a bold statement: The shafts in your golf clubs matter.
Okay, so maybe that's more Captain Obvious than bold.
But some 40 years ago, Kim Braly, the director of research & development for KBS Shafts, discovered just how imperfect the old-school approach to "picking" golf shafts was, and that led to boldly changing the industry and making the importance of shafts common knowledge to golfers today.
Because, after all, back in the late 1970s there wasn't much fanfare around which golf shafts you used, nor golfers didn't have much say in the matter. When Braly and his dad invented a system of measuring shaft flex called frequency matching, though, they discovered major discrepancies in sets that were being touted as uniform and that presented a problem he set out to solve.
Fast forward to the inception of KBS Shafts, which is now a major player in shaft design and whose shafts are commonly found in top players' golf bags worldwide. The result of years of innovation and Braly's answer to what golf shaft design was missing.
GOLFTEC's Jon Levy caught up with Braly earlier this year during the 2018 PGA Merchandise Show's Demo Day to discuss what launched his career in shaft design, and how he believes golf shafts will evolve in the future.
So, check out the video below where Braly explains how KBS technology produces versatile shafts which meet a wide spectrum of players, why that's important to every golfer and how being properly fitted for shafts is perhaps the most important aspect of honing in your golf equipment.
And, of course, find a GOLFTEC Certified Fitter near you to ensure your game gets the most out of today's golf equipment technology!
---
VIDEO:

Discussing Shaft Design with Kim Braly of KBS
---
Like our content? Subscribe to the GOLFTEC Scramble for the latest on instruction, news, equipment and more!