Ping launches three models for better players: the Ping i500 irons, Ping i210 irons and Ping Glide Forged wedges
By Jon Levy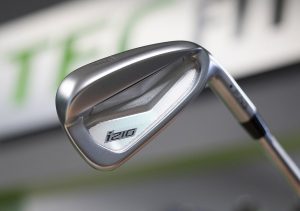 When it comes to the golf equipment arms race these days, it seems anything goes.
It used to be simple: There were players irons that held the best in feel, traditional looks and workability. And there were game improvement irons that would fly high and far, but held little control and often felt like hitting a Folgers can with a shaft attached.
No longer.
Today's iron landscape still consists of both ends of that spectrum. But the area in between – models offering the best of both worlds that appeal to many different levels of golfer – seems to be the biggest, ahem, "sweet spot" in the market of new club offerings by far.
Case in point: Ping's newest launches in the Ping i500 irons, Ping i210 irons and Ping Glide Forged wedges.
All three models offer the finest in players clubs characteristics, with state-of-the-art enhancements providing mishit assistance when needed. Or, in other words, the best of both worlds for low- to mid-handicappers who enjoy the benefits of a players iron, with the ball-launching and forgiveness characteristics of a game improvement club.
---
Ping i500 Irons
Overview
Ping i500 irons are a compact, blade-style iron with some of the same ball-speed-enhancing technology as the G700 irons for, as Ping describes it, "unprecedented speed, power and distance." This basically means the metal-wood-like construction and strong lofts (for Ping's standards) help your 7-iron maintain its typical height and control, but get the distance of a 6-iron.
In-Hand Photos
Features & Benefits
Powerful forces
A forged, C300 maraging steel face combines with a 17-4 stainless steel body for metal-wood-like performance, resulting in faster ball speeds and much longer, higher-trajectory shots with stopping power.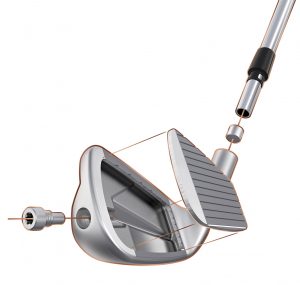 Muscle-back look
Muscle-back geometry helps to hinge the precision-milled and forged C300 maraging steel face, which flexes and adds dynamic loft while increasing ball speed, trajectory and distance.
Compact design
The clean, blade-style shape with minimal offset produces more speed and distance – enough to hit one less club into the green.
Precision grooves and face
The face and grooves are precision-milled to provide a flat surface for ensuring consistent ball speeds and reliable ball striking.
HydroPearl Chrome 2.0 finish
This premium finish helps ensure impact consistency and distance control from the rough and wet conditions while adding to the high-end appeal of the club.
Ping i500 irons are offered in 3-UW and retail starting at $175 per club.
Demo and purchase Ping i500 irons at your local GOLFTEC! 
---
Ping i210 Irons
Overview
Already a big hit on tour, the M.O. for the new-and-improved version of Ping i200 irons is a MUCH softer feel and more consistency due to a larger, softer insert and tighter groove tolerances.
In-Hand Photos
Features & Benefits
Buttery feel
The activated elastomer insert is much bigger in volume and 50 percent softer, creating 25 percent more face contact to ensure a pure feel at impact while also returning more energy to the ball.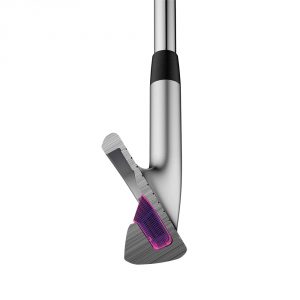 More face contact
The additional volume of the custom tuning port, which also increases perimeter weighting and provides swing weight fine tuning, allows for a 30 percent larger insert and 25 percent more face contact to ensure a soft, pleasing feel.
Premium look and quality
A refined, more compact shape and look combined with minimal, progressive offset help convey the high-end appeal of the set.
Smooth through the turf
The leading edge and sole profile were enhanced to improve turf interaction for distance precision with workability. The HydroPearl Chrome 2.0 finish helps to repel water and greatly improve consistency from the rough and wet conditions.
Precision grooves
Mirroring the Glide 2.0 specs, a sharper edge radius and tighter groove spacing in the pitching wedge and U-wedge provides greater precision to help prevent fliers on shots where control matters most.
The Ping i210 irons are offered in 3-UW and retail starting at $137.50 per club.
Demo and purchase Ping i210 irons at your local GOLFTEC! 
---
Ping Glide Forged Wedges
Overview
A tour-player-inspired, soft-feeling and compact forged design that is Ping's most customizable wedge to date due to multiple graphic and stamping options.
In-Hand Photos
Features & Benefits
Higher spin for control
Patented, precision-milled, wheel-cut grooves enable a sharper edge radius, which increases interaction with the ball at impact and creates more friction for improved spin and trajectory control.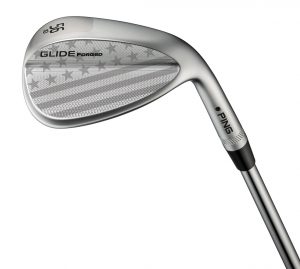 Soft, assured feel
8620 carbon steel produces an incredibly soft feel in the blade-style head. Every detail was covered, including milling the back of the wedge to create a distinct, appealing pattern. A tungsten toe weight adds forgiveness.
Tour-inspired shape
The small profile is complemented by the tour-inspired gooseneck-tapered hosel that allows for a smooth transition through grass and sand and provides a captured look.
Designed for versatility
A sole design with a rounded leading edge and more heel-toe camber allows for more shot-making creativity around the green. The face is machined flat to ensure consistent ball speeds, especially toward the toe, to improve accuracy.
Customize and personalize
Add artistic flair to your wedges from a selection of four eye-catching graphic designs: boomerang shapes, Mr. Ping, the American flag (pictured above), or an Arizona desert landscape.
Stamping
You can also custom-stamp and paint fill up to three letters and colors on the heel, center or toe.
Ping Glide Forged wedges are offered in lofts of 50°, 52°, 54°, 56°, 58° and 60° and retail starting at $217.50.
Demo and purchase Ping Glide Forged wedges at your local GOLFTEC! 
---
---
Like our content? Subscribe to the GOLFTEC Scramble for the latest on instruction, news, equipment and more!