As seen on Golf Channel: We take a look at the real results of a custom club fitting live on 'Morning Drive'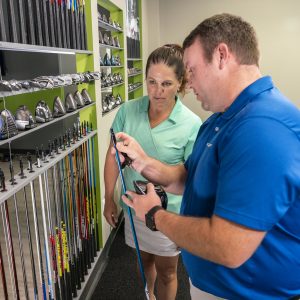 If you're buying golf clubs on eBay, off-the-rack at your local sporting goods store or waiting until your buddy passes down their old equipment, you're doing it wrong!
Those methods may have been a normal practice a few years ago, but with increased accessibility and ease to get a tour-like custom club fitting these days, you're doing your harm by going down any other path than the fitting route.
In past Scramble articles we've broken down the club fitting process and discussed how each little detail can make a significant difference to your game. But if that hasn't convinced you to talk to a certified club fitter at your local GOLFTEC, then the following video will.
Lights, camera, fitting
During a recent appearance on Golf Channel's Morning Drive, Nick Clearwater was accompanied by 4-handicap Jason Hirsch, who went through a full-bag fitting at a local GOLFTEC before the show.
Suffice it to say, the results speak for themselves. Hirsch found the perfect driver that increased his carry distance by an average of 24 yards, and irons that increased his carry distance by 11 yards from dialing in his launch angle and spin rates.
Without further ado, take a look at the data behind Jason's fitting and see how the smallest of adjustments made the biggest of differences. And if you're ready to take your game to the next level with a custom club fitting, schedule a TECFIT custom club fitting today.
---
VIDEO:

Live Club Fitting on Morning Drive
---
Like our content? Subscribe to the GOLFTEC Scramble for the latest on instruction, news, equipment and more!