As seen on Golf Channel: PGA Tour pro, James Hahn, shares how he gets the most out of his golf equipment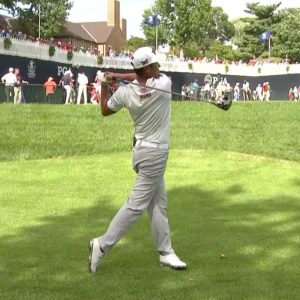 There's a slim, very slim, chance that a PGA Tour pro walks into a local sporting goods store and picks up an off-the-shelf driver or set of irons.
Because the best players in the world don't choose their equipment simply because of look or feel. They look to hard data on launch monitors to help decide which clubs make the final cut, and which clubs go back to the factory.
Maybe that's obvious to you. But Nick Clearwater caught up with two-time PGA Tour winner James Hahn on Golf Channel's 'Live From The PGA Championship' this summer to dive into what goes into his equipment decisions, because many of you do choose equipment simply because of look or feel. It can pay big dividends to your game to make decisions based on the facts instead.
Launch and spin for the win
Certainly, every Tour player is different when it comes to the specifics of what's in their bag. Some focus merely on ball speed when making an equipment switch, but Hahn pays close attention to launch angles and spin rates.
Check out the video below as Clearwater picks Hahn's brain on how he gets the most out of his equipment. And even though you might not be prepping for a major like Hahn was at Bellerive, using data to dial in your equipment can make major improvements to your game. So find a local GOLFTEC near you and schedule a fitting today.
---
VIDEO: James Hahn on Golf Equipment
---
Like our content? Subscribe to the GOLFTEC Scramble for the latest on instruction, news, equipment and more!