Thirty-six GOLFTEC Training Centers named to Golf Digest's '2019-20 America's 100 Best Clubfitters' list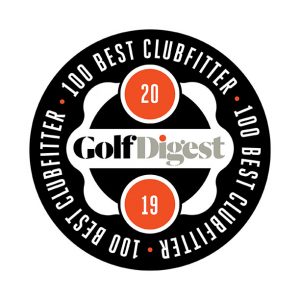 Within the last two years, we've steadily enhanced our focus on club fitting at GOLFTEC locations worldwide in an effort to improve upon our mission of helping people play better golf. Suffice it to say, we've made some noise in the industry by doing so.
Golf Digest has released their biennial list of 'America's 100 Best Clubfitters' for 2019-20, and 36 of our Training Centers have been awarded this prestigious honor! The list is comprised of the nation's top locations for custom club fitting services, as chosen by a poll of Golf Digest's course-rating panelists and other industry sources. Earning a significant portion of the honors given undoubtedly speaks volumes of the impact our improved club fitting services are making.
Take a look at which GOLFTEC Training Centers made the list below, and visit with an expert club fitter at a GOLFTEC near you to ensure your equipment is optimized to help you play your best golf.
---
Golf Digest's 2019-20 America's 100 Best Clubfitters
Colorado
GOLFTEC Centennial; Centennial, CO
GOLFTEC Chapel Hills; Colorado Springs, CO
GOLFTEC Denver Tech Center, Denver, CO
Georgia
GOLFTEC Fox Creek; Smyrna, GA
Illinois
GOLFTEC Deerfield; Deerfield, IL
GOLFTEC Halsted Row; Chicago, IL
GOLFTEC Oak Brook; Oak Brook, IL
GOLFTEC Vernon Hills; Vernon Hills, IL
Indiana
GOLFTEC Castleton; Indianapolis, IN
Iowa
GOLFTEC Country Club Village; Clive, IA
Kansas
GOLFTEC Overland Park; Overland Park, KS
Maryland
GOLFTEC Ellicott City; Ellicott City, MD
GOLFTEC Gaithersburg; Gaithersburg MD
GOLFTEC North Bethesda; North Bethesda MD
GOLFTEC Timonium; Timonium, MD
Massachusetts
GOLFTEC Danvers; Peabody, MA
Michigan
GOLFTEC Grand Rapids; Grand Rapids, MI
Minnesota
GOLFTEC Eden Prairie; Eden Prairie, MN
GOLFTEC Roseville; Roseville, MN
Nebraska
GOLFTEC Omaha; Omaha, NE
Nevada
GOLFTEC Henderson; Henderson, NV
New Jersey
GOLFTEC Englewood; Englewood, NJ
North Carolina
GOLFTEC Cary; Cary, NC
Ohio
GOLFTEC Blue Ash; Blue Ash, OH
GOLFTEC Easton; Columbus, OH
Oklahoma
GOLFTEC Moore; Moore, OK
GOLFTEC Tulsa; Tulsa, OK
Oregon
GOLFTEC Beaverton; Beaverton, OR
Pennsylvania
GOLFTEC Main Line; Bryn Mawr, PA
GOLFTEC Wexford; Wexford, PA
GOLFTEC Willow Grove; Willow Grove, PA
Texas
GOLFTEC Memorial City; Houston, TX
Utah
GOLFTEC Park City; Park City, UT
GOLFTEC Salt Lake City; Holladay, UT
Washington
GOLFTEC Lynnwood; Lynnwood, WA
GOLTEC Southcenter; Tukwila, WA
---
---
Like our content? Subscribe to the GOLFTEC Scramble for the latest on instruction, news, equipment and more!