As seen on Golf Channel: Improve your feel for the greens with a perfect putting drill to practice before teeing off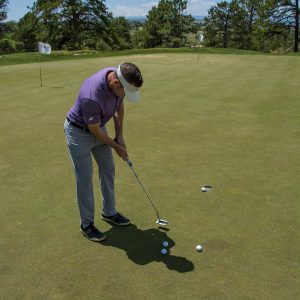 How do you improve your putting? Well, it comes down to three skills: green reading, distance control and the ability to start the ball on your intended line.
In a perfect world, it pays to put in hours of work to hone all three of these skills. But if you're like many golfers, your default method of practice may be hitting three putts in a row from the same spot and repeating mindlessly.
If the latter sounds like you, we have a much better routine to improve your putting and all three aspects of green reading, distance control and starting the ball on line. And the best part? This drill is the perfect pre-round regimen to develop a feel for the greens and prepare you for the conditions on the golf course.
Practice what you putt
Most golfers are bound to hit more than 30 putts per round; all of which are unique puzzles of speed and direction. Therefore, it's key to have a good warmup session that prepares you for the randomness you'll find on the golf course.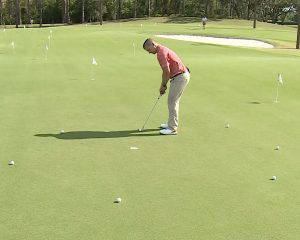 With that in mind, Brad Skupaka hit the short game practice area with a drill to develop your sense for the greens, while honing in both the speed and direction of various types of putts.
To start, grab seven golf balls and place them progressively around the hole in spiral fashion. The first ball should be about 3 feet away and the last about 10 feet.
Your goal is simple: Putt the closest ball in first and make your way around the hole, trying to get a feel for each putt's unique distance and break. If you can make every putt, that's great. But it's not the objective of the drill.
Your real objective is to get a true "feel" for putts from varied distances and with different breaks, and to mimic your upcoming round as much as possible. So, take a look at Skupaka demonstrate this drill below, and putt your way around the world before your next round!
---
VIDEO:

Putt Your Way Around the World
Brad Skupaka demonstrates an exercise to develop a better feel for the greens by varying your pre-round practice routine.