Sharpen your putting distance control and eliminate those lousy three-putts from your game
If you didn't know by now, GOLFTEC is kind of into numbers. We back all of our instruction and club fitting with data to ensure you're getting the best results in both categories.
However, it doesn't take a scientist to figure out that most golfers have room to improve their putting, because the average bogey golfer is four times more likely to three-putt from 20 feet than a pro golfer!
So what's a bogey golfer to do to slim down those three-putts from 20 feet? It all starts with improving distance control.
Going the distance
Stable distance control is the main differentiator between getting the ball in two-putt range and setting yourself up for yet another three-putt. One way to bridge the gap? Challenge yourself to putt to varying distances, and that'll refine your distance control.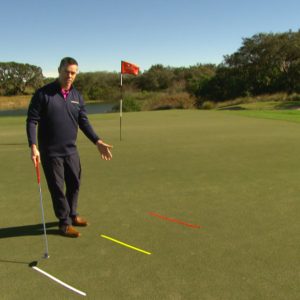 GOLFTEC's Director of Teaching Quality, Patrick Nuber, stopped by Golf Channel's 'Morning Drive' and shared a simple yet effective drill to help with just that.
First, place three strips of electrical tape—or any other visual aid you have on hand—about two feet apart. Once you have the target lines laid out, grab a few golf balls and set yourself up about 20 feet away from the farthest target.
Now putt a ball to each line while trying to stop the ball on top of the lines. Alternate which line you're trying to hit each putt to, but continuously switch between the distances to engrain better control of your roll.
When the lines disappear and you're actually on the course, instead of stopping the ball on the intended line, your goal is to stop the ball near the hole. Simple as that!
Moreover, once you eliminate those nasty three-putts from your game, you'll post scores that are better than your average bogey golfer.
To see this exercise in more detail, check out the video below.
---
VIDEO:
Putting Distance Control
---
If you're not sure if this tip is for you, find a GOLFTEC near you today!
---
Like our content? Subscribe to the GOLFTEC Scramble for the latest on instruction, news, equipment and more!