Patrick Cantlay grabs his second PGA Tour win at Muirfield Village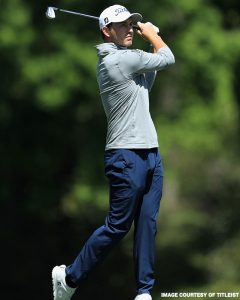 Patrick Cantlay entered Sunday's round at Muirfield Village four strokes back of the leader. But eighteen holes and a scorecard marked with only threes and fours were enough to earn a two-stroke victory over Adam Scott.
Last year's Memorial Tournament resulted in a playoff to determine the winner, which Cantlay missed participating in by a single stroke due to a flat back-nine.
We could argue this win was nice redemption.
His victory at the Memorial moves Cantlay to No. 8 in the Offical World Rankings, his first time within the Top 10.
---
What's In The Bag?

917 D2 (9.5°)
Cantlay won with the Titleist 917 D2, a fine driver from a couple of years ago. Titleist currently has the new TS line. They recently added to the line with the addition of the TS1 and TS4 geared towards very different golfers.

915 F (15º)
Another oldie but goodie Cantlay had in his bag to help him secure his victory were the Titleist 915 F fairway woods. These woods might be great for Cantlay, but we know the new technology in the TS3 and TS2 fairway woods have been extremely forgiving and long for our students.

718 AP2 (4-PW)
Cantlay is a golfer who likes to stick to the clubs he knows he can play well with and that's no exception with the Titleist 718 AP2 irons.
Congratulations to Patrick on a fantastic win! If you're interested in trying out any Titleist clubs, contact a local GOLFTEC to schedule a fitting.
---
Like our content? Subscribe to the GOLFTEC Scramble for the latest on instruction, news, equipment and more!