GOLFTEC Coach & 2019 Northern Texas PGA Player of the Year, Matt Lohmeyer, shares three quick tips to help everyone during tournament play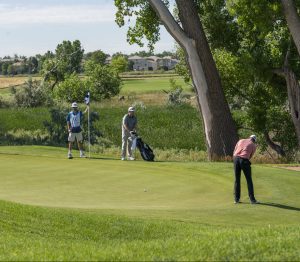 At GOLFTEC, all of our coaches have great experience and insights into the game of golf. But they're players, too. Take coach Matt Lohmeyer, who has become one of the top golf instructors and players in Texas. He recently clinched the Texas State Open Low PGA Professional (with a low round of 61!), the Northern Texas PGA Professional Championship and earned the 2019 Northern Texas PGA Player of the Year Award.
As a former college golfer, I have firsthand experience of how different tournament golf can be, compared to a Sunday round with your buddies. The vibe, the pressure, the attitude – the mental side of things plays a much more prominent role. It's a whole new level, but man, it's so worth it.
To help us come tournament time, whether it's a 9-hole league, a once-a-year charity tournament, or the prominent title of 'Club Champion,' Matt's exclusively sharing the tips he's used to become successful with us here on the Scramble.
Tips for Tournament Play
From the nerve-wracking first tee jitters to the pressure of making a putt to stay within the cutline, tournament play is a whole different beast. However, it can be some of the most fulfilling types of golf you'll ever play. So to help you stay the course, these three tips will come in handy.
1. Arrive Prepared
Arriving prepared is a combination of being familiar with the course you're about to play and to make sure your game is in a stable place. Showing up the morning of the tournament trying to implement swing changes or decide to map out a new strategy is a huge red flag. You should already have a game plan in place.
2. Aim Small
Once you're on the course, aiming small can be a huge advantage. If you pick out one particular landing area and miss it, it shouldn't be that detrimental. This also reiterates the fact that you shouldn't try to be the hero on shots that might not be worth the risk.
3. One Shot at a Time
The atmosphere of tournaments can sometimes get the better of some people. But rather than getting caught up in all of that, it's best to go about your round one shot at a time. If your focus is on the current shot and not what you're going to do on the 'scary' dogleg par 5 in two holes, you're going to see much better results.
Now take these three simple tips from Coach Matt to your next big golf outing, and I can almost guarantee not only will you be much more prepared, but you'll have more fun and you might even see a lower number on your scorecard at the end of your round.
---
If you're not sure if this tip is for you, find a GOLFTEC near you today!
---
Like our content? Subscribe to the GOLFTEC Scramble for the latest on instruction, news, equipment and more!