GOLFTEC embarks on its annual charity campaign in support of PGA HOPE
GOLFTEC is partnering with PGA HOPE to help our Veterans through the great game of golf. A lot of us use golf as a way to relax and unwind and that's no different for the heros of our country.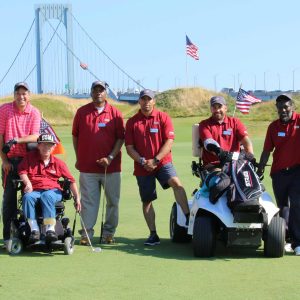 PGA HOPE (Helping Our Patriots Everywhere) introduces disabled military Veterans to golf to enhance their physical, mental, social and emotional well-being.
The program is a branch of PGA REACH, the charitable foundation of the PGA of America, which consists of a 6-8 week curriculum, taught by PGA Professionals trained in adaptive golf and military cultural competency.
Military and Veteran Liason for the PGA of America, Chris Nowak, stopped by GOLFTEC Headquarters to explain to us just how important this program is to him and Veterans alike. He describes giving back 'one moment in time.' That moment in time is focused on hitting the golf ball and not the trauma they've experienced.
All programs are funded by PGA REACH and if you want to help a Veteran one moment at a time, right now is a perfect time. From now until November 11, 2019, GOLFTEC is offering a FREE lesson or club fitting after you donate $50 or more to PGA HOPE.
To learn more about PGA HOPE, please visit https://www.golftec.com/pgahope.
---
Like our content? Subscribe to the GOLFTEC Scramble for the latest on instruction, news, equipment and more!