Play smart and ensure you have a strategy for every type of hole, especially the par threes
We've talked about course strategy and management before. It's a pretty big part of being proficient on the golf course and keeping the large numbers at bay. However, having a game plan in your pocket to attack large carries and dogleg par fives is helpful, but are you as prepared when you reach a par three?
Even though par threes are the shortest holes, they're often the most difficult to master. There are tricky bunkers, tucked flags, hanging trees, and the distances vary from 65 to 200 yards. Par threes are anything but a walk in the park.
Know your shot pattern & adjust
Before you start analyzing the hole and its quirks, take notice of your shot pattern. If you tend to slice or hook the ball, you'll want to consider that first and then adjust accordingly to the trouble surrounding the green.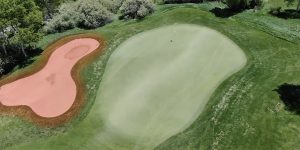 Take, for example, the picture to the right; there's a large bunker in front of the left side of the green. If you tend to hook the ball, you should aim more to the right. And if you miss the green and end up in the right fringe, that's not a terrible miss at all.
Nevertheless, when faced with a par three that has any trouble surrounding the green, the safest bet is to go for the middle. Playing smart and leaving yourself with a two-putt should always be the goal. When you start to get fancy and go directly for pins, that's when the doubles and triples come into play.
GOLFTEC's VP of Instruction, Nick Clearwater, and Director of Teaching Quality, Brad Skupaka, play this exact par three in the video above and explain their strategy behind their approaches to the hole. You can learn a ton just by their thought process and apply it the next time you're on the tee box of a par three.
---
If you're not sure if this tip is for you, find a GOLFTEC near you today!
---
Like our content? Subscribe to the GOLFTEC Scramble for the latest on instruction, news, equipment, and more!