No, we're not kidding and yes, keeping your head down throughout the swing does hurt your performance
Almost every golfer in the world has fallen victim to terrible golf advice. And if you haven't, consider yourself lucky. There's a select group of people that hear the cream of the crop of lousy advice constantly; it's golf instructors. And in this article by Golf Digest, top golf instructors were asked what the absolute worst golf advice they're overheard was.
GOLFTEC's VP of Instruction, Nick Clearwater, had a lot to say about that topic but there was one that stuck out to us.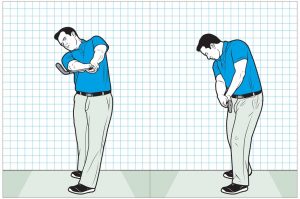 "Of all the ways you move in a swing, 'keep your head down' is the worst advice you could give. Just go look at the tour players. Nobody is trying to stay bent forward. Nobody. You're not hitting poor shots because of where your eyes are pointed," said Clearwater.
I know what you're thinking, that's a stretch. But to expand on that topic a little further, Clearwater is breaking down why keeping your head down is the worst advice you could possibly give anyone in this exclusive video.
---
If you're not sure if this tip is for you, find a GOLFTEC near you today!
---
Like our content? Subscribe to the GOLFTEC Scramble for the latest on instruction, news, equipment and more!