We're sharing an extreme example of how old drivers can severely impact your distance and ball speed
We might sound like a broken record but if you have old equipment in your bag, that right there could be the very reason why your game isn't living up to its full potential. We've shared different types of tests to show the difference between modern clubs and their predecessors and we're back with another one, but this is a rather extreme example.
In the video above, Director of Teaching Quality, Patrick Nuber has two drivers on the tee box- a modern driver and one a real GOLFTEC Student brought into a club fitting. The face of this funky looking driver isn't much bigger than a golf ball, so any mishit would be catastrophic. Now, we understand the vast majority of golfers aren't going to have antiques like this on hand but the fact that one GOLFTEC Student did, probably means they're not alone.
Obviously, this extraordinary driver is an extreme example and of course, when put head-to-head against a modern driver, the outcome should come as no surprise to anyone. But even if you're playing with equipment that's 5-10 years old, there's room for improvement.
Interested in more instructional content from GOLFTEC?
Fill out the form on this page and you'll be subscribed to future emails with great videos, tips, drills, and more.
A local Coach will also contact you to discuss your game and how lessons or a fitting at a local Training Center may benefit you.
New vs old- the results
So when Patrick actually put the clubs to the test, he saw huge increases in ball speed and carry distance. Like I said earlier, no one should be shocked by these results. However, these types of gains aren't unique to really old clubs. Students who come in for a driver fitting with a club that's only a few years old can see similar numbers.
It's not necessarily the advancements in the technology that's responsible for all of the gains alone, but fine-tuning the equipment is extremely important as well.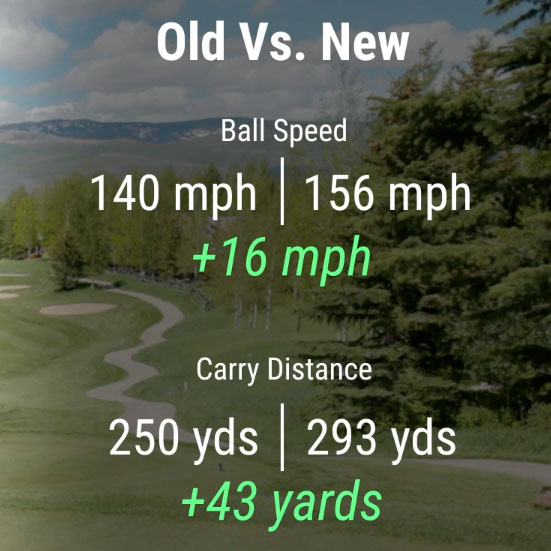 The bottom line is, if you're playing with anything remotely close to that odd-looking driver in the video above, you need to find a GOLFTEC ASAP and get fit for a driver that will help you on the golf course. Even if your driver is just a couple of years old, it never hurts to come in and make sure you're not leaving any distance on the table due to your old or ill-fit equipment.
---
Like our content? Subscribe to the GOLFTEC Scramble for the latest on instruction, news, equipment, and more!