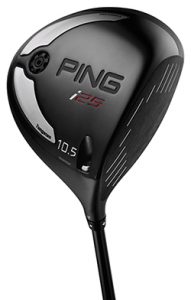 PROS
Great looks, solid feel and sound; Low spin for more distance and piercing trajectory; PWR shaft system; matte finish eliminates glare.
Racing (alignment) stripes may not be to everyone's liking; fewer stock shaft options than some prefer.
I recently had a chance to review the latest driver from PING – the new i25 driver and I am very impressed! It is packed full of technology but still maintains a clean, square, traditional look and performs very well. The technology built in the i25 is designed to deliver lower spin, accurate alignment, and effective shaft fitting. PING has accomplished the reduced spin with the addition of two high density tungsten weights that are set into the back sole of the club head. These weights not only help lower the center of gravity, but they also make the i25 more forgiving so you'll hit more fairways. The other advantage of less spin is a flatter ball flight resulting in more roll out for even more distance. Accurate alignment is achieved with their patented "racing stripe" design. The subtle but effective placement of the two stripes aids in getting the club face square at address which is key to hitting straight drivers.
Finally, PING has introduced their proprietary PWR (Performance Weighting Responsiveness) shaft system. The PWR system includes 55, 65, and 75 gram shafts which offer unique weights and stiffness profiles without altering the swing weight. This means you'll get the same swing weight regardless of the shaft you choose. As a side note, the lighter weight shaft helps promote a draw bias while the heavier weights promote a fade bias. PWR shafts come is a variety of flexes and torque ratings, so you're sure to find one that performs well for you.
Standard lofts for the i25 are 8.5, 9.5, & 10.5, and of course it incorporates PING's Trajectory Tuning Technology that lets you tune your driver loft to your maximize performance.
Complementing this great driver are matching i25 fairway woods. Incorporating the same advanced technology, these golf clubs have adjustable loft, alignment racing stripes, and tungsten weighting. There are two 3 woods loft options (14 & 15 degrees) and an 18 degree 5 wood and if you prefer hybrids you get them in four different lofts ranging from 17 to 26 degrees.
The i25 and all other PING golf clubs will be featured in the upcoming Try-It Series during the first week of March in many GolfTEC locations. Check with your Personal Coach for dates and times to get fit for custom golf clubs. And don't forget to continue to check our blog for more golf club reviews and information on the latest golf equipment.