Doug Strawbridge, Director of Instruction for GolfTEC Upper Kirby in Houston, TX highlights his student Lynn Cormier in this GolfTEC Success Story. Lynn started taking golf lessons in 2007 with a 13 handicap. He came in with two major complaints: one was inconsistent contact with the golf ball and second, was ball flight that would pull one day and slice the next.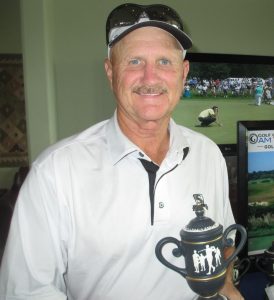 We highlighted three areas of concern in his his full golf swing. One was an open club face at the top of his backswing. With that open club face he struggled to square the golf club coming through the hitting zone. The second was an arm plane that was very upright at the top of the backswing and was causing the club to swing on a more outside in swing path. And third, a lack of body rotation through the hitting zone which was killing his power.
As you can see in the after swing, Lynn is doing a much better job of squaring the clubface at the top which is helping him hit a draw. Second, you can see the swing path coming down is much more on plane. And finally, Lynn is coordinating his body rotation with the golf club.
This year Lynn just capped off one of his most impressive years ever. He tied for 1st out of 3,415 players at the World Handicap Challenge in Myrtle Beach, Florida, and also named Senior club player of the year at Houston Amateur Golf Channel Tour in Houston, Texas and won his Senior Club Championship at Sweetwater Country Club. He has won at the local, state and national level.
These are amazing accomplishments. Lynn is now a 1 handicap with multiple rounds in the 60s and a low round of 66. Congratulations Lynn on all you have accomplished and all your hard work. Are you ready to see results like Lynn? Talk to a GolfTEC Certified Personal Coach to get a plan of attack today.