Grand Prize winner receives news after lesson.
Congratulations to Bill Magill – a true Tee Amigo – who is the Grand Prize Winner in GolfTEC's 2014 Referral Program. Bill is going to the Masters on us!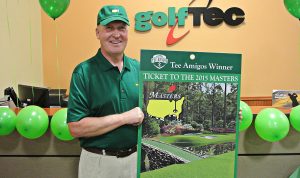 On Saturday, September 13, 2014 at GolfTEC Cumberland, Bill Magill finished up his lesson with his Certified Personal Coach, Fred Hartzell, and thought he was done for the day. As he moved into the Center lobby, though, he found a crowd of people waiting for him with balloons and a very special prize.
Center Manager and Director of Instruction Jospeh Charles, presented Bill with the Grand Prize from our Tee Amigos 2014 Referral Program – a Trip to the Masters*!
Bill will be traveling in style. A private limo will take him and a friend to Augusta for the Masters April 6th – 10th. They'll have 4 nights accommodations, Badge for the Masters (Thursday and Friday), Practice Round access (if available), one round of golf (Wednesday), daily breakfasts and dinners including cocktails, and, of course, GolfTEC instruction with a simulator at the house.
We are thrilled to be able to send Bill to his first Masters! Thanks for being a Tee Amigo!
To see Bill receive his ticket to the Masters, watch the video below: