Alternating putting distances on the practice green can help improve your putting speed control
Here we go again with another drill focused on putting.
Why? Because we can ALL stand to make a few more putts, and the more equipped we are with tools to improve, the better.
That said, this isn't just any putting drill.
It's a save-you-a-three-putt, don't-blow-it-five-feet-past-the-hole, two-putt-and-get-out-of-here drill that breaks down the art of lag putting into one factor that's more important than anything else on long putts: speed control.
Got that? Then let's get started …
Putting Speed Control Exercise: Alternating Distances
The idea of this drill is to hone in your speed from three different distances.
You'll need three balls, a ball marker and of course, your putter. You'll use the ball marker as your target from each of the three distances.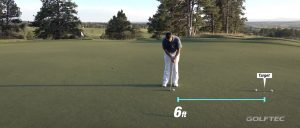 Starting at 6 feet away from your mark, the goal is to have the first putt come to rest 6 inches past it, the second putt 6 inches short of it and the third putt right on it.
As you'll do at each of the three distances in this drill, repeat the process until you reach your goal.

You'll then move back to 12 feet and repeat the exercise. This time, the goal is to leave your putts 1 foot past, 1 foot short and on the mark with your third putt.
Easy, right?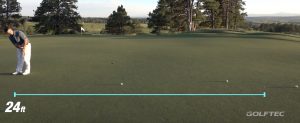 Great. Now it's time to move back to 24 feet, changing your goals to 2 feet past, 2 feet short and right on the mark.
When you've completed the 24-foot distance goals successfully, guess what – it's time to pat yourself on the back because while we didn't say this drill was easy, you should be well on your way to eliminating those dreadful three-putts!
Check out the video below as GOLFTEC's Patrick Nuber illustrates in depth how alternating distances on the green can improve your putting speed.
---
VIDEO:

Putting Speed Exercise – Alternating Distances
---
Want more help with your putting? Find a GOLFTEC near you and talk to a Coach today!
---
If you like our content, subscribe to the GOLFTEC Scramble for the latest on instruction, news, equipment and more!