As seen on Golf Channel: You've heard the term before, but do you truly know the importance of club fitting?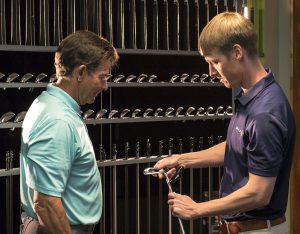 You hear the phrase on TV and you see it in the latest magazine article. But do you really know what goes into the process of a custom club fitting, and understand how it can affect your game?
The golf industry has come light-years from the standard of elite golfers only reaping the benefits of custom-fit golf clubs. With advances in golf club technology and convenience factors such as removable clubhead and shaft components – if you play golf – there's no reason why for your clubs to NOT fit your game perfectly these days.
That said, maybe you already know that but don't see the need for custom-fit clubs.
Well, if you want added distance, accuracy and an overall better golf game, off-the-rack golf clubs won't cut it for any level of golfer. The stats don't lie.
Club fitting is about details, and the details make a difference
In the video below which appeared recently on Golf Channel, GOLFTEC VP of Club Fitting and Merchandise, Mike Helfrich, explains the process of custom club fitting and the undeniable value of optimizing every club in your bag to your own unique swing and game.
Take a look and, as always, come into your local GOLFTEC for a TECFIT to truly see what a custom club fitting can do for your game!

---
VIDEO:

What is a Custom Club Fitting?
---
Ready to purchase clubs? Schedule a TECFIT with a local GOLFTEC Coach today!
---
Like our content? Subscribe to the GOLFTEC Scramble for the latest on instruction, news, equipment and more!