As seen on Golf Channel: Practicing this technique using your feet can help you better understand reading greens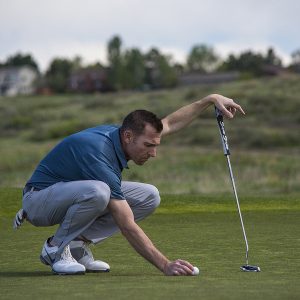 Being a good putter consists of proficiency with what could be called the putting trifecta: reading the green properly, determining the correct speed and starting the putt on line.
Of course, putting attention on all three skills when you're practicing can help you become better with the flat stick. But since you'll miss putts all day long with a poor read, even if you do have the correct speed and hit the putt on your intended line, it's this part of putting that is perhaps most key to be proficient at.
So, let's help you improve this part of your game which could be the difference-maker between holing those 6-footers for par or racking up a scorecard full of three-putt bogeys.
Use your feet to hole many feet of putts
For starters, being able to read greens properly comes down to more than just seeing the overall slope. It requires a in-depth look at the path your ball will travel to the hole which, at times, may consist of multiple directions.
Some golfers are naturally better at seeing the line of the putt than others in this regard. A good way for all golfers to read putts better, however, is using your feet to read the green along with your eyes.
Brad Skupaka shared a simple drill on Golf Channel's Morning Drive to explain this thought and quickly elevate your understanding of green reading. Once you start integrating his drill into your short game practice, you should start to see more putts roll on the correct line and limit those frustrating three-putts in no time! Check out the video below …
---
VIDEO:

Reading Greens with Your Feet
Brad Skupaka demonstrates how to read the slope of the green with your feet and easily add this technique into your practice regimen
---
Like our content? Subscribe to the GOLFTEC Scramble for the latest on instruction, news, equipment and more!