As seen on Golf Channel: Missing the short ones? Use this putting speed control drill to dial in your short putts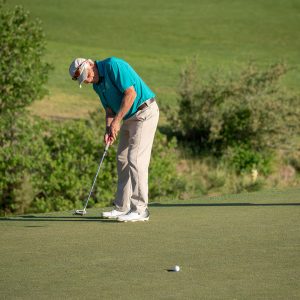 How many times have you stepped up to a simple 3- or 5-foot putt and failed to get it to the hole?
Surely you've heard the oft-repeated golf adage: You miss 100 percent of putts that come up short. Of course, hammering those putts with too much speed doesn't get the job done either.
There's a reason players like Jason Day, who made nearly 96 percent of putts from 3-5 feet during the 2018 PGA TOUR season (He only missed six out of 149 attempts!), are so successful from that distance. It's speed control.
Putting the ball with consistent speed is a surefire way to make more of your short putts.
Will it help you make nearly 100 percent like Day? That might sound like a lofty goal, but you will improve your short-putt make percentage by improving your putting speed control.
Distance control is key
Short putts tend to make us uneasy. As we start to over analyze how a knee-knocker will break, we often forget the importance of speed. So we have a drill, albeit an unorthodox one, to develop your feel for controlling speed.
Patrick Nuber recently hit the practice green at Tranquilo Golf Club in Orlando and set up a simple drill using a few balls, a putter and a wedge.
The idea is to place your wedge on the ground near the front edge of the hole, with the shaft perpendicular to the line of your putt. Starting at 3 feet then moving to 5 feet once you show consistency, hit putts with the goal of popping the ball up and over the shaft and into the hole.
If you don't hit the ball with enough speed, it will fail to get over the shaft. If you hit it with too much speed, it will fly over the shaft and hole altogether. The proper speed should see the ball popping over the shaft nicely and into the middle of the hole.
With a bit of practice, you'll be making more short putts – maybe even nearly 100 percent – in no time.
---
VIDEO:
A Drill to Make More Short Putts
Patrick Nuber demonstrates a drill to dial in your speed control and make more short putts.
If you want more help with your short game, find a GOLFTEC near you and talk to a Coach today!
---
Like our content? Subscribe to the GOLFTEC Scramble for the latest on instruction, news, equipment and more!