As seen on Golf Channel: Learn to control your distance out of the sand with the help of the Bunker Ladder Drill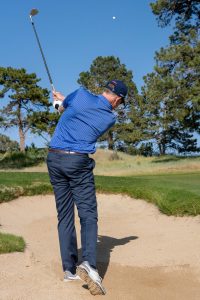 Being a solid bunker player can be the difference between saving par regularly and wasting two, three or even more embarrassing strokes in the sand every time you're in it.
To become a successful bunker player, you need to be proficient with these three components: having the right intent on how to hit the shot, controlling where you hit the sand relative to the ball and controlling the distance the ball travels.
The third factor, controlling distance, is a great place to start. And we have the perfect drill to help make bunker play one of your strongest assets.
The Bunker Ladder Drill to control distance
Patrick Nuber hit the short game area at Tranquilo Golf Club in Orlando to share the Bunker Ladder Drill for distance control out of the sand. All you need is a handful of balls and whichever wedge you commonly use in the bunker.
The goal is controlling distance by hitting each shot shorter than the previous one. Start with hitting your first shot to the back edge of the green, then work your way down to the shortest possible shot that barely trickles onto the surface.
Ultimately, you'll develop better distance control from the bunker by practicing in this manner and gain a better sense of what type of swing produces what result. And before you know it, you'll be making more up-and-downs out of the sand and saving par regularly.
---
VIDEO:

The Bunker Ladder Drill
Patrick Nuber demonstrates the Bunker Ladder Drill for better bunker shot distance control.
---
Like our content? Subscribe to the GOLFTEC Scramble for the latest on instruction, news, equipment and more!