As seen on Golf Channel: Those worn-down wedge grooves are doing everything but helping your game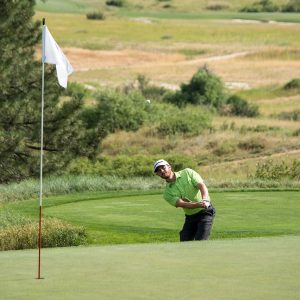 You know this scenario: A tour player misses the green, grabs a wedge, lands the shot pin high and the ball bounces once before spinning back toward the hole like it's on a string. The player then one-putts and walks away with a par or better, hardly breaking a sweat.
You, however, might be more familiar with the inverse: After grabbing your trusty (and rusty) wedge, you strike a decent shot, but only to watch the ball land pin high and careen off the back of the green while you plead, "Spin!"
Other than a difference in skill level, there's likely a separating factor between their equipment and yours: the freshness of the grooves.
Fresh grooves, best grooves
No, we're not talking Will Smith fresh. If you've ever peeked inside a tour pro's bag and looked at their wedges, you'd likely notice how brand new out of the wrapper they appear.
You could make the argument that pros have limitless access to equipment and you'd be right. But that's not the main reason they switch out their wedges so often.
When wedge grooves get worn down, the ability to control distance and spin starts to decrease dramatically. So the pros take nothing for granted and often change out their wedges multiple times per year, especially considering how important control around the green is at the highest levels of competitive golf.
Yes, you need new wedge grooves, too
If we had to guess, you're probably not playing every day like a tour pro. So you don't need to swap out your wedges as frequently. However, if you notice wear patterns, nicks and scrapes on the face of your wedges, it's time to consider a new set.
To demonstrate the difference between new and worn-out grooves, Brad Skupaka took out his old gamer to see how it would stack up against a brand new MD4 wedge from Callaway.
Check out the results in the video below, and schedule a TECFIT to see how playing the right equipment can dramatically improve how you perform on the golf course.
---
VIDEO:
New vs. Old Wedges
---
Like our content? Subscribe to the GOLFTEC Scramble for the latest on instruction, news, equipment and more!