As seen on Golf Channel: Start hitting clean iron shots with the help of this simple drill you can do at home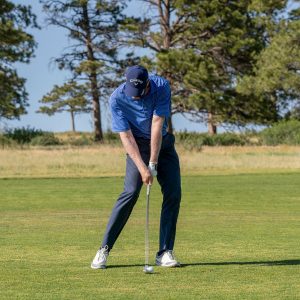 We all know golf is hard. There's even a trending #GolfIsHard tag floating around with videos and pictures depicting common golfers' struggles to prove that.
While there are MANY common hardships golfers face out there, if we had to pick two of the most common? Slicing the ball from the tee and making poor contact with irons would be solid choices.
We've written a lot of articles here on the GOLFTEC Scramble about straightening out that dreaded slice. Today, we're tackling those poorly struck iron shots.
Pure iron shots produce pure results
Certainly, finding your ball in the middle of the fairway is a pleasant sight. But that can quickly turn sour when you chunk or blade the next shot. To help make sure that isn't a regular occurrence in your game, we have an exercise to help.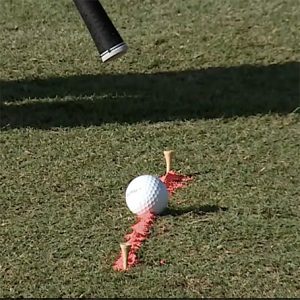 Zach Lambeck recently appeared on Golf Channel's 'Morning Drive' with a simple drill you can set up at the range.
If you have some chalk lying around, grab it and draw a line that's perpendicular to your target line, as seen in this image. If you don't have chalk handy, a couple of tees placed 18 inches apart to simulate the line will still do the trick. Proceed to hit a few iron shots with the ball placed on the line and notice where your divots occur.
The point is merely to see where your club is hitting the ground. If your divots start one or even two inches behind the line, this indicates the low point of your swing – where your club bottoms out at the ground – is not where it should be.
The objective is to ensure your divots are starting on the chalk line or ahead of it, toward the target. Shots struck contacting the ball before the ground are THE key to hitting pure iron shots.
As you work with this drill, try getting to the point of hitting seven out of 10 shots with ball-first contact. That will mean you're well on your way to hitting pure iron shots consistently – and avoid being a victim of the #GolfIsHard movement.
---
Video: Chalk Line Drill for Solid Iron Contact
Zach Lambeck demonstrates the Chalk Line Drill to help improve your iron contact and limit chunked and thinned iron shots.
---
Like our content? Subscribe to the GOLFTEC Scramble for the latest on instruction, news, equipment and more!