As seen on Golf Channel: The Headcover Drill is an effective, practical practice tool to help you rid the slice
The slice: Many golfers struggle with it, all golfers hate it.
While there are multiple components in your swing that lead to a slicing ball flight, how the clubface is aimed in relation to swing path at impact its key technical cause.
So, let's discuss how the latter – swing path or, specifically, the "over-the-top" or "out-to-in" move in the downswing – can be improved with a simple drill using something you already have in your golf bag.
Learn to draw the ball with the Headcover Drill
A great place to start ridding your game of the slice is to improve your swing path and create an "inside-to-outside" downswing – a main ingredient for the coveted push draw shot pros hit with ease.
Accomplishing this drill is simple: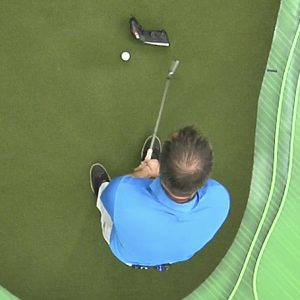 Place a headcover about 4 inches outside of the ball and 6 inches behind it, aimed along your target line.
Remove the ball and take a few slow and smooth practice swings as if it was still there, without touching the headcover in the backswing or downswing.
Continue swinging faster until you can take full practice swings without hitting the headcover.
Replace the ball and repeat steps 2 and 3, and practice with this drill until you start seeing a consistent improvement in your ball flight!
Of course, the Headcover Drill is merely a starting point to help you eliminate your slice. To truly know if a swing path is even the root cause of this shot or what else might be causing it, find a GOLFTEC Coach near you and get your swing measured.

---
VIDEO:

Learn to Draw with a Headcover
Check out the video below as VP of Instruction, Nick Clearwater, demonstrates the Headcover Drill to help get your swing on the right "path" and make that slice a thing of the past!
---
---
Like our content? Subscribe to the GOLFTEC Scramble for the latest on instruction, news, equipment and more!